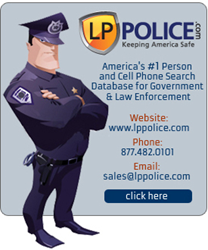 LP Police, America's #1 Person and Cell Phone Search Database for Government & Law Enforcement would like to personally invite you to join us at the Massachusetts Chiefs of Police Association annual trade show on April 2nd
Boston, Massachusetts (PRWEB) March 25, 2014
LP Police, America's #1 person and cell phone search database for government and law enforcement would like to personally invite New England law enforcement officials to the Massachusetts Chiefs of Police Association annual trade show on April 2nd.
LP Police/Entersect representatives will feature product demonstrations, show specials and giveaways. They will be demonstrating the nation's #1 investigative database featuring billions of records exclusively available to law enforcement and government agencies.
Find out why superior data, fast access, free training and award winning VIP customer support makes LP Police the industry leader.
CEO Ron Lifton Commented: "I'm excited to be part of the MCOPA tradeshow event. Year after year it has been an exceptional forum for learning and collaborating while experiencing the latest police technology advancements."
CEO/President Ron Lifton, Vice President of sales Alyssa Tsoukalas and law enforcement/government data specialist Corinne Ray will be on hand to demonstrate all of the LP Police software features and capabilities. Look for the LP Police and Entersect "Solve More Cases" display April 2nd.
About MCOPA:
On Wednesday, April 2, 2014 over 1,500 law enforcement professionals from across New England will convene at the 2014 Massachusetts Chiefs of Police Association Annual Trade Show offering exhibitors the opportunity to interact with chiefs, command staff, sheriffs, municipal officials, and department heads.
Join fellow officers as they address law enforcement's critical issues and learn how to equip their operations with the latest software, hardware and technology for the future.
Contact Cheryl Lott at the Association's Business office at cheryl(at)masschiefs(dot)org or 508-839-5723 for any additional questions or concerns.
Visit http://www.masschiefs.org for more information.
LP Police Advantages:
Unlimited person, phone, property, criminal, civil and business search includes a cancel anytime/money back guarantee.
Unlimited and Premium reports include full SSNs, DOBs, MVR, people, assets, licenses, court records (criminal/civil), phones, weapons permits, hunting/fishing licenses, watercraft records, FAA certificates, prior residences, real estate holdings, recorded bankruptcies, liens, judgments, businesses and more in a secure, interactive, searchable database.
Law enforcement and government agencies (federal, state and local) are encouraged to experience the superior data, accuracy, world class free "VIP" technical support, one-on-one training, and customer service from LP Police.
About LP Police:
LP Police, located in Boston, Massachusetts is the nation's leading provider of accurate, complete and cost-efficient investigative information and reports on a majority of the U.S. adult population.
Our proprietary online skip tracing database can be used wherever there is an Internet connection, whether in an office or on a mobile smartphone or tablet device. Subscribers have instant access to America's #1 person and cell phone search. Law enforcement benefits from billions of updated online public records to conduct person, phone, address, email, social security, civil records, criminal background, property, assets, licenses and motor vehicle searches.
Call Corinne at 877-482-0101 Ext.238 and sign up for a free trial.
Background Checks:
Background101.com FCRA certified employment background screening is available to qualified applicants. Background101 has been a leading provider of background screening information for more than 15 years.
Please call Amanda Cunha at 888-746-3463 X326 for more information.