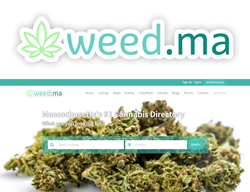 For the first time in the history of Massachusetts's nascent legal marijuana industry, a new online directory specifically for the Bay State has launched.
BOSTON (PRWEB) June 05, 2019
For the first time in the history of Massachusetts's nascent legal marijuana industry, an online directory specifically for the Bay State has launched (https://weed.ma) to meet the specific needs of local cannabis consumers and to help MA residents and visitors alike quickly and easily find retail marijuana shops as well as medical marijuana dispensaries and other cannabis-related businesses, events, activities, and information in the state.
Short, easy to remember, and specific to Massachusetts, the new weed.ma website is set to become the one-stop directory for all cannabis-related businesses and information in the Bay State and aims to provide marijuana consumers in MA the most up-to-date, hyper-localized, and ultra-relevant information together with a top-level design and features not found in any other cannabis directory.
With a clever use of the .ma domain name extension that combines the more popular term "weed" with the Massachusetts state abbreviation after the dot, weed.ma makes its target market clear in both its domain and brand name so that Bay Staters can rest-assured that the site will be solely dedicated to their specific interests and enjoyment of legal pot. From Boston to Pittsfield, Georgetown to Fall River, and everywhere in-between, the entire Bay State is covered. So whether cannabis consumers are in Worcester, Springfield, Cambridge, Lowell, Brockton, New Bedford, Quincy, Lynn, or Newton, they can rely on weed.ma's all-inclusive localized cannabis info for all their needs.
Completely free for all consumers in the Bay State, weed.ma is also feature-rich and includes marijuana-related Listings, Deals, Events, Classifieds, Articles, Blogs, Forums, Photo Galleries, Videos, Integrated Mapping, Social Integration, Newsletters, Bookmarks, Advanced Search & Filters, Lead Generation, and more, all specific to Massachusetts without any distractions from other states, all of which are following their own separate and distinct cannabis and regulatory paths.
Launching initially with 4 popular listing categories including Recreational Marijuana, Medical Marijuana, Marijuana Doctors, and Head Shops, weed.ma allows cannabis consumers in the Bay State to easily sort through and find local marijuana-related businesses thanks to its intuitive navigation, auto-complete search results, relevant filters, integrated map results, and automatic geo-location to the user's specific location in MA. To further improve the user experience, weed.ma leverages a first-rate design that is extremely user-friendly, very easy on the eyes, and highly engaging.
With a unique and unprecedented review system, cannabis consumers in MA can leave local Recreational and Medical Marijuana businesses extremely detailed ratings with 10 different ratings categories ranging from quality to variety to price and more. This extensive ratings system will help the Massachusetts cannabis community easily find the top recreational and medical marijuana businesses for their needs while helping business owners identify where they may have room for improvement so that they can take action to provide Bay Staters the highest level of service anywhere in the United States.
To ensure desktop users and mobile users alike can use the site however and whenever is most convenient to them whether at home or on the go, the weed.ma cannabis site has a modern responsive design that is natively desktop, mobile, and tablet-friendly from the get-go, automatically adjusting to the user's screen size and device. App lovers will soon be covered too with an iPhone and Android App already in development.
All Bay State marijuana consumers are invited and encouraged to add listings, information, and detailed reviews to weed.ma for their favorite marijuana shops, dispensaries, doctors, and more to make the directory as complete and helpful as possible. Cannabis consumers also have free access to the Classifieds section of the site to trade legal marijuana-related products, free access to the Events section to post local cannabis-related events, and a Forum to discuss any Massachusetts-related cannabis news and topics. weed.ma is primarily focused on the consumer and promises to be free forever to all cannabis consumers in Massachusetts so they can always find, exchange, and post any and all cannabis-related information in one place.
Cannabis-related businesses in Massachusetts are also invited to add and update their listings on weed.ma so that Bay State cannabis consumers can easily find them and see their most up-to-date information. Businesses have access to several powerful features including the ability to add and claim their listings, respond to reviews, post deals, list events they organize, write cannabis-related articles, update their blog with what they've been up to, advertise, and more to attract and engage with cannabis consumers in MA.
weed.ma's ultimate goal is to make legal cannabis in Massachusetts as popular, simple, and accepted as responsible drinking so that consumers from all walks of life can enjoy the full power and freedom of the state's recent marijuana legalization.
Having covered all its bases with best-in-class design and software, highly relevant and extensive features, comprehensive breadth and depth, native mobile-compatibility, automatic geo-targeting, a memorable domain name and brand, and a laser-sharp focus solely on the Bay State, weed.ma is poised to become the #1 cannabis-related website in Massachusetts.