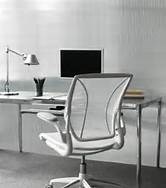 We love selling Humanscale products because our customers are happy, comfortable and will enjoy the great quality for a long time. We enjoy their fantastic service, warranty and excellent customer support.
Los Gatos, CA (PRWEB) October 23, 2013
We've Got Your Back is excited to announce its fourth quarter "Celebrate the Season" promotion. Customers can save $100 to $400 on Humanscale ergonomic office product packages. Humanscale is the leading manufacturer of specialty seating and ergonomic accessories in the United States. Humanscale product incorporates the latest in ergonomic technology with the greatest in style and comfort.
The promotion is in response to customer feedback; many have said they wanted to redo their offices before the end of the year. This is a perfect time to take advantage of a best-in-class brand with the quality, reputation, style and warranty that is the best in the industry.
The qualifying promotion categories include ergonomic seating, task lighting, keyboard systems and float height adjustable tables. Purchase three items and save $100 to $200, purchase four items and save $300 or purchase five items, one from each category, and save $400.
We've Got Your Back has is proud to offer the Humanscale line of products. Check out their products here. They have become one of the world's top three manufacturers of high-performance task chairs in a short period of time. They did so, by offering a superior product, made with superior materials and the essences of ergonomics.
When building a work station, it's important to have task lighting at bright at comfortable light levels. Humanscale's task lighting provides exceptional performance, efficiency and ease-of-use. A well-designed articulating keyboard system is another integral part of a workstation, working in conjunction with the task chair and monitor for healthy, comfortable posture. Humanscale's keyboarding systems provide workers with protection against carpal tunnel syndrome, neck and back pain, and other musculoskeletal issues.
Many customers have heard the research that suggests sitting for so long is detrimental to one's health. The height-adjustable tables, such as Humanscale's Float, are the perfect answer to this news. The Float system features a unique counterbalance mechanism, and simple, one-hand height adjustment, providing ergonomic sit/stand usage. Float does not require electricity and is free of an obstructive crossbeam or crank system.
Flat panel monitors have very quickly proven their benefits in the office setting. They are easily mounted, adjusted, provide stability and look good. When paired with a Humanscale adjustable arm, they are even more beneficial, becoming even more easily adjustable and space saving.
To take advantage of the "Celebrate the Season" promotion, please stop into We've Got Your Back, located at 114 Royce St. Los Gatos, California 95030. Or visit their website for more information, http://www.back2active-bayarea.com.
About the company:
We've Got Your Back is a women-owned business that delivers best-in-class products and services in ergonomic office accessories and seating, fitness gear and comfort solutions. Its goal is to provide education, information and products that ultimately eliminate the root cause of back pain and neck pain. The showroom in Los Gatos is designed to serve the community with educational programs, fitness training and product demonstrations.
We've Got Your Back offers its products and solutions to support the home office, telecommuter or the office workstation with training, chair fittings, ergonomic assessments and lifestyle support programs. Products include ergonomic seating, zero gravity chairs, neck pillows, massage chairs, sit-to-stand desks, doctor-recommended pillows and more. Visit their website for more information.