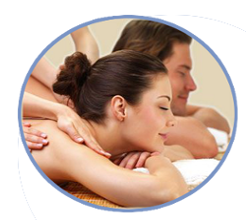 There is nothing more relaxing then sharing a massage moment with your partner!
Tampa, FL (PRWEB) August 23, 2013
Two can experience the benefits of therapeutic, relaxing massage therapy in the same room. A massage should be tailored to what each partner finds as relaxing.
Couples massage comes with many benefits and the first one is obvious. It is the opportunity to relax and take it easy with someone special. One of the biggest benefits of couples massage is that each of you can experience totally different massage modalities at the same time, in the same room.
In couple's massage therapy, two people share in the close personal experience of receiving a massage in the same room at the same time with different massage therapists. Romantic partners, friends, or family members each enjoy the same therapeutic benefits as in a traditional massage.
Each of you will review your needs with your individual licensed massage therapist who will custom tailor the massage therapy session exclusively to you. Conversation with your massage partner is totally acceptable during a couples massage or if you prefer you can both relax and quietly enjoy your massage. Our therapists will always keep their conversation limited to periodically checking on your comfort level. You should always feel comfortable during a couples massage, or during any massage session.
Signature Massage is know as the Home of The $39.95 Swedish Massage. They offer a variety of services such as Swedish, Deep Tissue, Sports, Prenatal & Couples massage; as well as Hot Stone, Neuromuscular & Aromatherapy. Furthermore, they have a complete array of Skincare & Facial services, including Microdermabrasion.
Signature Massage provides services via appointment or walk-in, as well as offering online gift certificates for the perfect gift.
Appointments: (813) 925.8898
Gift Certificates: Order Online