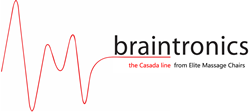 Braintronics is the technological tipping point for massage chairs. It is a platform to not just alleviate pain and improve physically, but to enhance your mental performance. This is a breakthrough.
Denver, CO (PRWEB) August 03, 2016
Elite Massage Chairs today announced a technological innovation called Braintronics™ that expands the capabilities of massage chairs. While all massage chairs can massage muscles, the new Casada line from Elite treats the brain too. The chairs incorporate a brainwave frequency treatment designed to enable super deep levels of relaxation, and improve mental and physical health even after the sessions in the massage chair.
Braintronics™ synchronizes brain waves to within a desired state of brain activity using audio stimulation. This process has long been known as entrainment, in which brain frequency aligns to those emitted by specially designed programs. In doing so electrical impulses in the brain slow down to a state of deep relaxation, even meditation.
While the frequency of brainwaves is synchronized, the massage chair simultaneously administers a specialized and rhythmically-aligned deep tissue massage, for a holistic system of mental relaxation and stress relief, as well as the relief of muscle pain and tension. The massage chairs offer a "menu" of programs to choose from based on various treatment goals.
How Braintronics Works
Braintronics is activated with the massage chair's remote control, and each chair is shipped with premium noise-cancelling headphones for crystal clear audio delivery. While music is not required for brainwave synchronization, the programs were engineered with relaxing nature sounds, spa-style music, and gentle voice-overs for optimal treatments.
The concept of brainwave synchronization is called entrainment, a study in chronobiology, in which the brain's electro-magnetic impulses align with rhythmic and/or sensory stimulation. The brain responds to wavelength stimulus with the so called "frequency following response." During this response the brain subconsciously aligns its own prevailing frequency to the frequency supplied by the outside source. The ears don't necessarily recognize this, but the brain does.
There are four brain wavelengths – Beta, Alpha, Theta and Delta – each corresponding to a state of consciousness. The best known are Alpha waves, which emerge during conscious relaxation, or during periods of deep calm without sleeping, and Theta waves, which emerge during lighter sleep stages or meditation. These states of brainwave activity are ideal for knowledge absorption, intensive learning, and healing.
The More You Use It, the Better It Gets
The prevailing theme across Braintronics programs is deep relaxation, or the effective synchronization of brainwaves to a calm state promoting peace of mind, so that users develop the ability to better perform at optimal levels during times of stress or high performance. The more a user experiences the Braintronics programs, the greater the long-term benefits.
Over time the brain's synapses and nerve branches "learn" how to quickly align to these lower frequencies on demand. It is much like one who practices meditation can, over time, quickly achieve a meditative state. Through repeat use of Braintronics users are better able to deal with stress, overcome anxiety, and improve physical and mental performance.
Current Braintronics Programs
The company announced four fully developed Braintronics programs designed with specific objectives, allowing users to select one that meets their particular need at the time. All Braintronics programs are divided into three phases:
1. Relaxation Alpha frequency 7-10Hz
2. Treatment Theta frequency 3-7Hz
3. Awakening Beta frequency 4-30Hz
Current Braintronics programs include:
1: De-Stress
A program to transform the mind to a sense of calm, relieve anxiety and worry, and promote peace of mind, and entrainment designed to help users more effectively deal with stress and anxiety.
2: Improve Focus
A program to increase daily productivity and focus for tasks, upcoming work or personal challenges, or sports performance.
3: De-Compress
A program designed for mental and physical recovery from normal daily routines or levels of high exertion such as study, work, or strenuous exercise.
4: Muscle Therapy
A program to reinvigorate muscles in the neck, shoulders, back, legs and feet, and for the treatment of muscle pain whether chronic or temporary, through a combination of entrainment and therapeutic deep tissue massage.
"If you believe in the powerful connection between body and mind, then you'll understand what we've accomplished in this new line of massage chairs. We believe Braintronics is the technological tipping point for massage chairs, ushering them into a new role in the treatment of not only back pain, but a wide array of physical as well as mental or emotional issues. We see Braintronics as an ambitious platform for the constant development of effective holistic treatment of many disorders our society faces today" said John Williamson, CEO of Elite Massage Chairs.
More programs are being developed and will be made available to Braintronics-enabled massage chairs. The company says that soon all programming will be delivered via mobile app available for free download, and the company says more announcements about innovative features within the app will be released in the future. The company is currently pursuing co-development of programs with major league sports teams.
"I see it in young athletes in our organization, and I've personally learned it as a player and a coach – the mental edge is the difference between good and greatness. I see many ways Braintronics could give athletes the mental edge, which can be elusive at all levels of sport. Already sports psychology is an integral part of most major league training programs, and Braintronics would be a natural fit for organizations looking for a competitive edge" said Jason Lane, professional baseball player and hitting coach for the Milwaukee Brewers (https://en.wikipedia.org/wiki/Jason_Lane) .
Current Braintronics-enabled massage chairs includes the Alphasonic, Betasonic, and Hilton 2, and are available via the Elite Massage Chairs website (http://www.elitemassagechairs.com) as well as through Costco special events in select US regions (http://www.costco.com/special-events.html).
For more information, please contact:
John Williamson 800-592-0548, ext. 2
jwilliamson(at)elitemassagechairs(dot)com