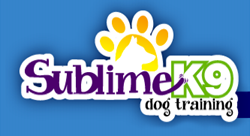 Sublime K9 Dog Training emphasizes training owners as well as dogs.
Long Island, New York (PRWEB) September 28, 2013
Sublime K9 Dog Training, a dog training school based in Wantagh, NY, seeks to emphasize training of not just the dog but the owner to create a more successful dynamic. This emphasis is borne of the belief that when owners see how their pet learns they will be able to move forward in their new relationship in the most positive means possible while reinforcing the lessons from the training.
As improvements in the ways that dogs are trained come to the fore, dog trainers need to incorporate owner training into the process for more successful outcomes. Just as parental involvement in their children's education helps to reinforce the importance of the lessons, so does the owner involvement in training help the dog to learn quicker and a greater understanding between owner and pet is achieved.
"While I am a certified professional dog trainer I am not the owner, who is spending the majority of the time with the pet," said owner Jessica Freedman CPDT. "It is so very important for owners to see how we train dogs and understand the cues that the dogs are learning. When this happens and once the training is done, the relationship between owner and dog will be that much stronger and special." Jessica added that when an owner makes that level of connection with their new family member it will also help to eliminate unnecessary discipline going forward. "Dogs, like people, learn through repetition and in the early days after training the learning continues until it becomes second nature and when owners understand this it makes the whole process so much better."
Sublime K9 Dog Training, a dog training school located in Wantagh New York, was established by Jessica Freedman with the goal of providing customized training programs to suit the individual needs of each dog and their family. A graduate of the National K-9 Learning Center where she earned her designation as a Certified Professional Dog Trainer, Jessica has over 10 years of experience as a dog trainer. A professional member of International Association of Canine Professionals, her love for canines has also led to work in the veterinary field and as a dog walker to learn as much about dog's health and wellness as possible. It is this combination of training, experience and dedication that has made her a respected member of the canine training profession. Sublime K9 Dog Training can be reached by phone at 631.241.6482, by e-mail at info(at)sublimek9training(dot)com or filling out and submitting a contact form.