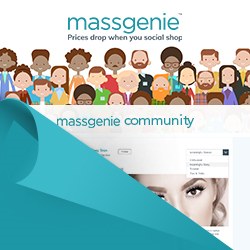 MassGenie's Power Deals are short-term, volume-based offers where buyers can leverage their social media presence to crowdsource demand
COSTA MESA, Calif. (PRWEB) March 05, 2019
MassGenie announced today that its gross merchant volume (GMV) for January and February 2019 was $2.3 million, which was a 2,576% increase compared to January and February 2018.
Social Sharing website visitors in January and February 2019 increased by 4,162% and GMV as a result from Social Sharing increased by 10,639% compared to the same period in 2018.
MassGenie also announced that they would be adding their own version of community to http://www.massgenie.com by the end of the quarter. The MassGenie Community will give MassGenie customers a place to connect, learn, and shop with people who share their interests.
"Our customers are making the social shopping experience happen," said Dan DeVries, President of MassGenie. "Our Power Deals are short-term, volume-based offers where buyers can leverage their social media presence to crowdsource demand. It is exciting to see the continued acceleration in growth that we have been experiencing. Our 2,576% year-to-date growth was a significant increase from our same quarter year-over-year growth of 2000% in Q4 2018."
"We're excited about our upcoming community," added DeVries. "We're different from many platforms, because we're not just a deal site. We cater to our customers by engaging with them in the social world, and with these communities we'll be able to converse and engage all on one platform! Buyers can share makeup tutorials, comment on their favorite fashion trends, find amazing home decor ideas, and shop and share with their friends, all in one place! We will put the 'unity' in community and we're excited about getting everyone involved in the conversation!"
MassGenie has recently opened up their Series A round which is expected to close in Q2 2019.
About MassGenie
MassGenie is a unique online social shopping marketplace site, which combines the power of crowdsourcing and e-commerce. Coding started on MassGenie in 2015 and the site soft launched in 2017. Follow MassGenie on Facebook, Instagram, Twitter, LinkedIn and YouTube. MassGenie was founded and is led by veterans in the ecommerce, marketplace and software industries. To learn more about MassGenie, visit https://www.massgenie.com/.