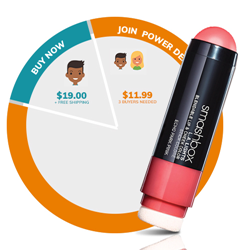 MassGenie CLV (customer lifetime value) has grown substantially from $72 in 2017, more than doubling in 2018 to $181 and is expected to exceed $300 in 2019
IRVINE, Calif. (PRWEB) June 05, 2019
Today, MassGenie announced yet another record setting month and continued to demonstrate positive business model posturing in a very competitive online market setting. The latest business model and unit economic metrics continued to impress as GMV (Gross Merchant Volume) climbed to $2.07 million in May 2019, up from $175K in May 2018; and an equally impressive decrease in CAC (customer acquisition cost) to $19 in May of this year.
MassGenie is currently on track to exceed $5 million in GMV in Q2 2019, which will nearly double Q1 2019 GMV of $3.2 million.
MassGenie also announced that the CAC trend has dropped significantly from $33 in Q1 2019 to $19 in Q2 2019. Indications lead to solid expectations that CAC will continue to drop beyond Q2.
MassGenie announced more welcome news about CLV (customer lifetime value), which has grown substantially from $72 in 2017, more than doubling in 2018 to $181 and is expected to exceed $300 in 2019.
"We are pleased that our GMV is expected to exceed $5 million in Q2 2019 vs. $530K in Q2 2018. Our metrics continue to prove that our business model and unit economics are a sound platform for continued success," said Dan DeVries, President and COO of MassGenie. "In May, we added 21,844 new customers which dramatically increased our customer base. That was a 34% month-over-month customer base growth spurt and we expect to have over 100,000 customers by the end of June 2019. We are also experiencing a dramatic increase in repeat GMV, indicating that our business model is primed for substantial customer retention."
About MassGenie
MassGenie is a unique and innovative online social shopping marketplace, which combines the power of social sharing and e-commerce. MassGenie's Power Deals are short-term, volume-based offers where buyers can leverage their social media presence to crowdsource demand. Follow MassGenie on Facebook, Instagram, Twitter, LinkedIn and YouTube. MassGenie was founded and is led by veterans in the ecommerce, marketplace and software industries. To learn more about MassGenie, visit https://www.massgenie.com/