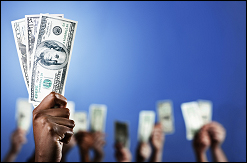 Partners have enough going on to have to worry about slow cashflow.
Sandy, Utah (PRWEB) May 29, 2014
Telarus, Inc., distributor of commercial data, voice, and data center services, announced today that it is now advancing commissions to its partners as well as allowing them to accelerate residual commission payments. The two new programs will give Telarus partners much needed access to capital to grow and expand their businesses as well as give them the ability to pay their referral partners up-front without having to float the expense.
"We are very excited to roll out these two programs that were designed with our partner's growth in mind," commented David Bashford, President of Telarus. "We understand that many of our top-producing partners have a desire to grow and accelerate their ability to produce, but just lack the capital to do so. By advancing these partners up to 10x their monthly residual, today, they can invest in new employees, marketing, advertising, and/or any number of things that will help them move the needle."
The commission advance program is available to all Telarus partners who have achieved a minimum of Bronze status or higher. Each partner can advance up to 10x their monthly residual commission without any payments for one full year.
The commission "as you like it" program gives Telarus partners the ability to convert residual commission into an up-front payout, giving them instant access to their compensation without making them earn it over time.
"Not many people understand the financial needs of our partners like we do," added Zane Christensen, CFO of Telarus. "We understand that it takes a long time for our partners to build up their revenue and that recent sales take months to actually cash-flow. With these two new programs we are able to shoulder some of the risk and dramatically shorten the time it takes for our partners to be paid, so they can reinvest and hit their growth targets much sooner than they could otherwise."
"These two programs also open the window of opportunity for our partners to work with referral partners who don't have a residual income model," added Adam Edwards, CEO of Telarus. "Many in the IT and VAR space are used to receiving large one-time payments for projects they complete, and this will allow our sales partners to overcome any commission incompatibilities that may prevent the two from working together."
To learn more about the Telarus Commission Advance Program, please see: http://www.telarus.com/commission-advance.html.
To learn more about the Telarus Commission 'As You Like It' Program, please see: http://www.telarus.com/commission-as-you-like-it.html.
About Telarus
Telarus, Inc. is a value added distributor that holds contracts with the world's leading commercial telecommunication carriers, makes it easier and more profitable for solution providers, VARs, and MSPs to sell and source voice and data WAN solutions. Our patented GeoQuote platform combines real-time carrier pricing with advanced research features and branded proposals. Telarus' experienced Sales staff is strategically focused on enterprise WAN and high-capacity bandwidth solutions, making it easier to find the best offer, every time. For its part, Telarus has been named the top Master Agent by the members of the Telecom Association in each of the past three years, the first and only company in the carrier channel to accomplish this feat. Whether you are a top producer or a voice-and-data expert just starting out on your own, there is a place for you in the Telarus community. For more information on the Telarus partner program, please visit http://www.telarus.com or call the new partner hotline at 877-346-3232.