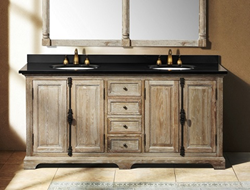 Customizable modular cabinets combine the best features of custom cabinets and pre-made vanities, with a flexible layout and a designer look and feel.
(PRWEB) July 29, 2014
HomeThangs.com – the Online Home Improvement Store has made their goal to deliver the right product to the consumer. With that in mind, shopping and home design tips, as well as special product selections are being introduced.
Finding the perfect bathroom vanity is never easy, but in a master bathroom it can be particularly difficult. Because master bathrooms are shared spaces, privacy and storage are much more important, and because they're more likely to be used simultaneously, layout and logistics matter a lot more, too. HomeThangs.com has introduced a simple guide to a few of the best options out there, as well as where and why they work best.
Custom cabinetry is a common option for large-scale bathroom renovations for the simple reason that they can be tailor made to fit the needs of the space, providing desired storage where it's needed and molding to fit the size, style, and layout of the bathroom. Opting for custom cabinets is also one of the few ways to get a large enough quantity of cabinets to stand up to a very large bathroom. Unfortunately, custom cabinets can be prohibitively expensive, and the more customized they are in terms of size, shape, style, and storage, the more expensive they are.
On the other end of the spectrum are pre-made bathroom vanities, which are much more affordable than custom cabinets and come in a huge variety of sizes, styles, and shapes. Though they tend to be smaller than custom cabinets, they can be installed much more quickly and easily, and offer a lot more options in terms of configurations. One major drawback of most pre-made vanities is that they tend to have an upper size limit of about 72", which means they might not be hefty enough to stand up to a very large bathroom on their own.
For those larger bathrooms, some manufacturers sell double vanities that go above the average 60″-72″ width range, but they're shipped in pieces rather than as a single solid unit – usually two single vanities connected by a central cabinet. This makes it possible to have pre-made double vanities 96″ and wider while still making them simple to transport and install. While not fully customizable, this modular approach makes it possible for pre-made vanities to accommodate even very large bathrooms.
Customizable modular cabinets combine the best features of custom cabinets and pre-made vanities, offering both a flexible layout and a designer look and feel. These modular sets include a variety of interchangeable vanities, storage, and connecter pieces, each of which are designed to fit together seamlessly into a single solid vanity unit. Because the pieces can be mixed and matched, it's possible to build a vanity in any size or shape, with multiple sinks, cabinets, make up stations, and so on, all from attractive pre-made parts, often for less than it would cost to have a similar cabinet built from scratch. The main drawback is that only a few manufacturers offer this type of setup, so right now the options in terms of style and finish are a bit limited.
Perhaps the best space-saving option for a small master bath is to abandon traditional bathroom vanities entirely and opt instead for a pair of pedestal sinks. These have a much smaller footprint than even the smallest bathroom vanities, and can be installed either side by side or in different parts of the bathroom, depending on the layout of the space. The biggest drawback for using pedestal sinks in a master bathroom is that they lack any kind of storage, but pairing two pedestals with a small storage cabinet in the middle can work well and takes up significantly less space than the average double vanity.
Modern wall mounted sinks are another slightly less traditional option. Designed to be long and flat, more like a porcelain shelf with a sink built into it, these provide a decent amount of counter space and plenty of sink room for two. While wall mounted sinks, like pedestal sinks, lack built in storage, since they're mounted directly to the wall rather than to the floor, there's a lot more freedom to put modern storage cabinets underneath the sink, creating a sleek, gravity-free modern look.
For more ideas about how to furnish a master bathroom, check out the full article here.
HomeThangs.com is not only a home improvement superstore, it also provides expert design tips and a comprehensive shopping guide, taking the ideas from professional interior designers, and offering tips to the consumers on how to pick the products to best suit their needs.