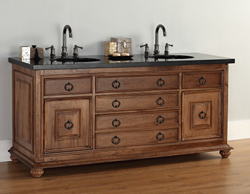 There are many ways to add a second sink to a master bathroom, from the conventional double vanity to options that are a little more compact and flexible.
(PRWEB) February 12, 2014
HomeThangs.com – the Online Home Improvement Store has made their goal to deliver the right product to the consumer. With that in mind, shopping and home design tips, as well as special product selections are being introduced.
Many 2014 bathroom trends are about big, bold, dramatic design choices. But maybe the most practical and crucial trend this year is much quieter. Overwhelmingly, homeowners are starting to add a second sink to their master bathrooms. While this is a simple change, it's becoming an increasingly important one in terms of resale value. HomeThangs.com has introduced a guide a few different ways to add a second sink to a bathroom, from big, sprawling double vanities to more compact options that will work in even the smallest spaces.
Double Bathroom Vanities
Upgrading from a single vanity to a big, sprawling double vanity is the perfect way to round out a master bathroom. Though it isn't a one-to-one swap, a hefty double vanity will give the space a nice finished quality. Because they come with the requisite two sinks (and lots of storage and counter space), double vanities will give both people using the bathroom their own separate spaces, which ultimately is the point of this trend.
Compact Double Bathroom Vanities
Typical double bathroom vanities are pretty large, starting at about 60″ and scaling up from there. But since this trend extends to master bathrooms of all sizes, it's worth noting that double vanities do come in smaller sizes as well. These smaller models won't have quite as much elbow room or storage, but simply having two separate sinks – even if they're fairly close together – can make it easier for couples to get ready for work at the same time in the morning.
Matching Bathroom Vanities
In odd shaped or smaller master bathrooms, though, there may not be room for a large rectangular piece of furniture. Instead, consider opting for two matching single vanities. This not only offers the functionality of two separate sinks, but allows them to be physically separated. In a small bathroom, that might mean having a few more options for the layout, while in a large space it can even mean adding privacy or creating more personalized areas.
Pedestal Sinks
Pedestal sinks have a much smaller footprint than average single vanities, but their fuller shape and classic, iconic look have a more finished look than a simple sink basin. And two paired together – either with a storage cabinet in the middle or one on either side – produces a great, traditional look that will work even in smaller spaces.
Trough Style Sink
A slightly less common way to get the functionality of two sinks is actually to opt for one big trough style sink. These have two faucets but only a single drain in the middle, which allows them to be a little smaller while still remaining comfortable to use for two. Trough style sinks come in both traditional and modern styles, and work great in a kid's bathroom, too, as they're very resistant to spills and splashing.
Wall Mounted Sinks
The smallest master bathrooms might require something even more petite, and wall mounted sinks – which can be about half as wide as a small vanity – fit the bill perfectly. They're very small and can be installed just about anywhere, and unlike bathroom vanities or pedestal sinks, a petite wall mounted sink can be installed as a supplement to an existing vanity, rather than necessarily purchased and installed as a matching pair.
For more details on how to fit two sinks in a master bathroom, check out the full article here.
HomeThangs.com is not only a home improvement superstore, it also provides expert design tips and a comprehensive shopping guide, taking the ideas from professional interior designers, and offering tips to the consumers on how to pick the products to best suit their needs.