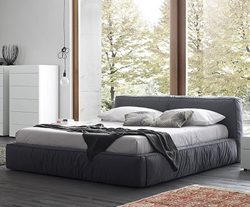 In a very small master bedroom, once the bed is in place, there usually isn't much space left to spare, so it's vital to prioritize what additional furniture is needed and combine functionality wherever possible.
(PRWEB) September 26, 2014
HomeThangs.com – the Online Home Improvement Store has made their goal to deliver the right product to the consumer. With that in mind, shopping and home design tips, as well as special product selections are being introduced.
Having a small master bedroom can be a big problem. Insufficient square footage means there's little room for either furniture or free movement, which can be especially frustrating in a shared room. That said, there are ways to get more mileage out of a small master bedroom without a major renovation.
HomeThangs.com has introduced a simple guide to a few furniture and decor choices that can make a big difference.
Choosing the right bed is the most important factor in working with a small master bedroom. HomeThangs.com's new guide offers a few tips for what size and style works best depending on the desired look and feel for the room as a whole, as well as a few suggestions for how to incorporate additional storage directly into the bed itself.
Storage is another major concern when decorating a small master bedroom, and this guide includes several recommendations, both for furniture choices as well as a few built in storage options. The size, location, and style of storage pieces all matter, and HomeThangs also offers a few tips for choosing storage that's ample and accessible, but that won't take up the whole bedroom. In terms of other furnishings, this guide examines a few pieces that have a minimal visual impact and compact footprints, but that offer flexible, functional utility. Choosing pendant lights or wall sconces instead of table lamps, for example, helps reduce clutter and improve ease of use while adding a nice designer touch to the bedroom.
For those who live in mild climates or have ample outdoor spaces, HomeThangs.com has also introduced a simple alternative to a conventional expansion or remodel: rather than adding on to a master bedroom or stealing square footage from another room, simply connect the master bedroom with a deck, porch, patio, or balcony to create the illusion of added square footage and introduce more natural light to the room.
To read the full article and to see some beautiful small master bedrooms in action, check out the full article here.
HomeThangs.com is not only a home improvement superstore, it also provides expert design tips and a comprehensive shopping guide, taking the ideas from professional interior designers, and offering tips to the consumers on how to pick the products to best suit their needs.