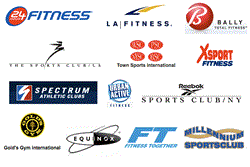 NESTA is approved by the leading fitness centers in the world.
(PRWEB) November 05, 2013
Available at http://www.nestacertified.com/master-personal-trainer/, NESTA's Master Personal Trainer certification turns trainers into leaders with advanced education in biomechanics, functional training, core conditioning, speed and agility training and more. The unique online program combines five certifications into one master program: Personal Fitness Trainer (PFT), Functional Training Specialist (FTS), Core Conditioning Specialist (CCS), Biomechanics Specialist (BMS), and Speed, Agility & Quickness (SAQ).
"As the personal training industry continues to grow, having additional areas of focus or specialty as well as advanced training will help you stand out from the rest," said John Spencer Ellis, founder of NESTA and John Spencer Ellis Enterprises, a fitness and personal development solutions company. "Our Master Personal Trainer certification is designed to help those interested in taking their career to the next level, whether it is opening their own business, working with clients in a particular specialty or simply increasing their paycheck by increasing their knowledge base."
The Personal Fitness Trainer certification requires renewal after four years, but none of the other certifications expire. Students have one year to complete the full Master Personal Trainer program online. In addition, a POLAR FT60 Heart Rate Monitor is included with registration.
"When you specialize in a particular area of personal training, you can actually increase your client base by finding and marketing to exactly the people you want to work with," Ellis added. "Likewise, the more you know, the better prepared you will be to work with clients, whether they are training for an IRONMAN triathlon or recovering from a serious injury."
Personal trainers, group fitness teachers, coaches and others interested in taking their training career to the next level can learn more and register at http://www.nestacertified.com/master-personal-trainer/.
About the National Exercise & Sports Trainers Association
Since 1992, the National Exercise & Sports Trainers Association (NESTA) has been a leader in innovative solutions for fitness, nutrition and wellness professionals, as well as club owners. Founded by John Spencer Ellis, NESTA now has more than 55,000 members in 55 countries, and it is one of the largest fitness associations in the world, as well as the fastest growing association of its kind in the United States. For more information on the NESTA Personal Fitness Trainer certification, please visit http://www.nestacertified.com/personal-fitness-trainer-certification/.