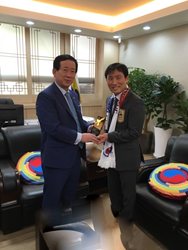 Learn From A Legend
Oak Park, IL (PRWEB) September 01, 2016
GrandMaster S.H. Yu is the owner of Master S.H. Yu Martial Arts in Oak Park, IL and he has been appointed to the Kukkiwon International Advisory Board at the Kukkiwon World Taekwondo Headquarters, South Korea. GrandMaster Yu is an internationally respected teacher and martial artist; he recently attended the 2016 World Taekwondo Leaders Forum in South Korea where he was named to the advisory board. The purpose of the Kukkiwon International Advisory Board is to promote and develop the art of Taekwondo throughout the world and GrandMaster Yu's appointment recognizes him as a world leader in Taekwondo.
For over 50 years, GrandMaster Yu has committed himself to the study, practice, and teaching of different styles of martial arts. He has spent his entire life as a student of Taekwondo, becoming a 9th Dan, in addition to other styles of martial arts including Hapkido, Gumdo, Karate, Kung Fu, and Artistic Weaponry. He is also a world master in Haidong Gumdo, or traditional swords, as well as Taekwondo. His students learn self-defense sequences and artistic forms from Master Yu rather easily presented in his unique style. GrandMaster Yu is one of the few remaining GrandMasters who continues his practice and dedicates himself to his students and teaching first. The Kukkiwon Advisory Committee expressed their appreciation for GrandMaster Yu's dedication to the art of Taekwondo with a letter welcoming him to the Kukkiwon Advisory Board. He was chosen by the committee for his commitment to elevating Taekwondo to the status of world class martial arts.
About Master S.H. Yu Martial Arts
Master S.H. Yu Martial Arts opened in 1994 in Oak Park, IL and continues to provide marital arts training for children and adults in Oak Park and the surrounding towns of River Forest, Elmwood Park, Forest Park, Riverside, River Grove, Berwyn and near west Chicago suburbs and neighborhoods. They are a premier martial arts education center that promotes the lifestyle of martial arts which is the promotion of health, longevity, safety, enjoyment, and personal awareness. They have classes available for students of all ages including young children, teenagers, adults, and families, offered every day, Monday through Saturday. Each of their instructors is taught by GrandMaster Yu himself, is certified by the Kukkiwon World Taekwondo Federation, and tested quarterly to reach new levels of skill. You can learn more by calling Master S.H. Yu Martial Arts at (708) 383-3456 or visiting http://www.master-sh-yu.com.
About Kukkiwon International Advisory Committee
The Kukkiwon International Advisory Committee is the board of the Kukkiwon World Taekwondo Headquarters based in South Korea. The advisory committee is dedicated to promoting the development of Taekwondo worldwide as well as furthering the development of Taekwondo masters throughout the world. As the World Headquarters of TaeKwonDo, Kukkiwon is responsible for promoting Taekwondo as a world class martial art and to show the cultural, physical and mental educational values of studying Taekwondo.