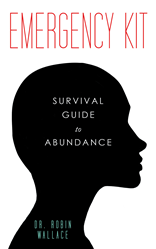 SANTA FE, N.M. (PRWEB) January 14, 2019
"Emergency Kit: Survival Guide to Abundance" by Dr. Robin Wallace is a quick and relatable guide to help readers use the Law of Attraction to shift their focus from their fears and anxieties to their dreams and the blessings which currently surround them.
Through mock conversations, "Emergency Kit" shows the internal battle we often have between our true selves, our higher power or God, and our conditioned subconscious. The familiar dialogue shows how we let our subconscious beliefs of unworthiness, fear, and lack deter us from an abundance mindset.
"Set your intention on what you want and begin to allow and witness miracles," the author said. "Yes, you deserve to have it all!"
The practices readers implement while reading and working through this guide will help symptoms of anxiety, depression, and stress be released to allow space for abundance and positivity.
"Emergency Kit: Survival Guide to Abundance"
By Dr. Robin Wallace
ISBN: 9781504334969 (softcover); 9781504334976 (electronic)
Available on Amazon
About the author
Dr. Robin Wallace received a bachelor's degree in psychology with a minor in anthropology from Connecticut College, and she earned a doctorate of oriental medicine from the International Institute of Chinese Medicine in Santa Fe, New Mexico, followed by an internship at the China-Japan Friendship Hospital in Beijing, China. Dr. Wallace's exposure to body-mind medicine and Science of Mind practices influenced the inspiration she offers in "The Emergency Kit." She implements a metaphysical acupuncture practice and Law of Attraction lifestyle that has helped her patients move through their current symptoms into relief by envisioning their ideal lives.
###