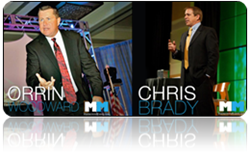 The [Mastermind Event]…represents everything that is right about network marketing.
(PRWEB) December 11, 2014
This year's network marketing Mastermind Event took place in Orlando, Florida, from October 31 – November 2. The event, which was the 10th annual gathering of its kind for network marketing professionals, boasted many industry-leading speakers. These professionals had worked months in advance to deliver informative content to their colleagues in an engaging manner. Among them were Chris Brady and Orrin Woodward, both of whom are 'New York Times' bestselling authors as well as cofounders of LIFE Leadership. Throughout the weekend, top leaders from around the world discussed best practices, shared helpful tools of the trade and inspiring success stories, and made lasting connections and friendships.
The Mastermind Event, founded by networker Art Jonak, is a closed event for members of the network marketing profession where top performers share information specific to the profession that has been tested and proven. Jonak and his Mastermind team say that networkers from over fifty countries and one hundred plus different direct selling companies have attended their event and that many of the attendees, like Woodward and Brady, are proven leaders running world-class organizations, so newcomers and those at all levels have an opportunity to mingle with and learn from the best and brightest the profession has to offer: networkers who have decades of real field experience and are still active in the industry. Says Woodward, "For the last five years, I have supported the event because it represents everything that is right about network marketing." He cites Jonak's personal sacrifice and commitment to excellence, the "world-class…leadership character, competence, and communication skills" of the Mastermind faculty, and the prevalent attitude of camaraderie as main reasons for his support. Woodward calls what Jonak has created a "win–win culture" where driven, passionate attendees from hundreds of different organizations lift one another and the entire industry up rather than tearing each other down.
Woodward and Brady, whose LIFE Leadership organization produces materials covering what they call the 8 Fs of life (Family, Finances, Fitness, Faith, Following, Freedom, Friends, and Fun) to help users personalize their goals and find solutions for greater success and satisfaction in all areas of life, were in good company among the other speakers at the Mastermind event, such as Sarah Robbins, Ørjan Sæle, and Randy Gage. Woodward says, "Everyone who attends the event leaves with a boatload of nuggets to improve him- or herself personally and professionally." A prevailing idea behind the event is that when so many have so much to offer, attendees are able to network, learn, and grow while having fun and creating lasting friendships with other professionals in their field.
About Orrin Woodward:
Orrin Woodward is an internationally celebrated 'New York Times' bestselling author with over a million books sold and a recognized leader in team leadership, success coaching, and executive management training. He is a cofounder and Chairman of the Board of LIFE Leadership and Obstaclés Press as well as a cofounder and President of the philanthropic foundation All Grace Outreach. Orrin is #20 on 'Inc.' magazine's Top 50 Leadership and Management Experts list. His blog (orrinwoodwardblog.com) has received numerous awards, including being selected as one of HR's Top 100 Blogs for Management and Leadership and as a Universities Online Top 100 Leadership Blog. Orrin is also the recipient of a National Technical Benchmarking Award and holds four US patents.
About Chris Brady:
Chris Brady is a 'New York Times' bestselling author who has sold over a million books on leadership and success and has been named one of the Top 100 Authors to Follow on Twitter (@RascalTweets). Chris is a cofounder and CEO/Creative Director of LIFE Leadership, a cofounder and Executive Publisher of Obstaclés Press, and a cofounder and Vice President of the charitable organization All Grace Outreach. He was listed as #39 on 'Inc.' magazine's Top 50 Leadership and Management Experts list. His blog (chrisbrady.com) was selected by Online Masters Degree Programs for a Masters Award in Leadership and listed in the Top 150 Management and Leadership Blogs. And in 2010, Chris was awarded the Kettering/GMI Alumni Association Entrepreneurial Achievement Award.