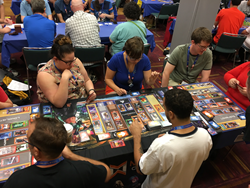 We believed we could create something different, something special
Houston, Texas (PRWEB) September 22, 2017
Every few years, a new game is released that has the chance to have a remarkable impact across the world. This typically takes a special kind of creative magic that can balance ease of learning and artistic beauty with endless strategy and replay ability. This is precisely what the newest tabletop game Master of Wills offers. Stormcrest Games, an exciting new game designer in Texas, has just released the collectible first edition version of the board game.
Master of Wills—MOW for short—has been in the works for nearly a year, and it appeals to both gaming purists and casual players. Easy to learn but difficult to master, all it takes is one game to understand why MOW is so accessible yet addicting. When you speak to someone who has played the game, their excitement is palpable. For instance, Hannah Newman, a casual gamer and play tester at Gen Con 50, gave the following feedback:
"Great mechanics, fantastic concept, and so different from any other game. I love it and I ordered a copy as soon as I could! It was simple to learn and each game I played felt like a new experience that required a different strategy. The funny thing is that I lost the two games I played and it didn't matter because of how much I enjoyed the game itself!"
How to Play
Master of Wills can be played one-versus-one or two-versus-two. It's all about moving the cards—you want to move as many points to your side of the board as possible while your opponent is trying to do the same for their side. Community cards are each assigned a value, and each card is represented by a character from one of the eight sectors of the Community. Moving those cards can trigger the basic movement of other cards on the board.
The cards move from a neutral area in the middle of the board toward your side or the opponent's side through three rows. Each row represents how close the character is to joining your Faction. The rows are called Recruits, Loyalists, and Allies. Each row represents how loyal the character is to your side. If they reach your Allies, those points are locked in.
When the game begins, each player will choose a Faction and build a deck of Faction cards that caters to their own style. These Faction cards allow for even more powerful card movement. For instance, let's say you choose a Faction card that says, "Choose any card from your opponent's Recruits or Loyalists and move to your Allies." Then imagine your opponent has a card with a 15-point value in their Loyalists row. You can snatch up that valuable card and lock it into the Allies row on your side of the board, giving you a large number of points and taking those same points away from the opponent. A single, well-timed Faction card can be a serious game changer; if none of that makes sense, trust me—just play and you'll catch on quickly.
Fun, Value, and Beauty in One Package
Master of Wills is a game that will test your mind—not your pocketbook. The game retails for $59.95, which is about the price of a console game. However, unlike other card games in the genre, Master of Wills comes with 220 cards containing nearly 150 unique pieces of art. Building a competitive deck with other games could easily cost players hundreds, if not thousands, of dollars over time—but not MOW. The Stormcrest team believes the base game needs to be as affordable and accessible as possible to make the biggest impact.
"From the beginning, there were three things we would not compromise on. The first was to design a game with superior quality and a level of detail that each game owner would appreciate even before they open the box," said Randy Van Gelder, CEO of Stormcrest. "Second, we vowed to test and retest the mechanics until we achieved the optimal balance. And third, we sought out to create a franchise, not just a game. We will expand Master of Wills and, in fact, we've already done so. Likely in early November, we will release the Dawnlight expansion pack with an entirely new Faction style of play."
A testament to its quality, MOW's game board is sleek, the cards are rich and vibrant, and even the box is a piece of art that took over a month to design. Josh Calloway, MOW's art director, has been involved since the game's inception. "When I first joined the team, I was captivated by the game, it's mechanics, and its endless strategy. We believed we could create something different, something special," Calloway explained. The art is woven in with the storyline and it is as intricate as it is beautiful.
Master of Wills is fun for just about any age and any level of player. Whether a person likes games or rarely plays them at all, the variation from game to game is so stark that it keeps bringing people back for more. The art and ease of learning will be critical to MOW's success but the replay value may ultimately be the difference maker. This is a game everyone should have in their collection. Find out more information about Master of Wills at https://www.masterofwills.com.
About Stormcrest
Stormcrest, Inc. is a software company that develops systems in the retail energy and gaming markets. The founder of Stormcrest, Randy Van Gelder, created the first console gaming website for competitive team building and tournaments in the early 2000s when Xbox Live was first released, called TeamCompete.com, which was sold to Major League Gaming in 2006. For more information, you can visit https://www.stormcrest.com