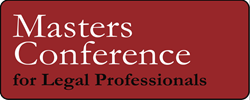 We have lined up outstanding speakers covering some of the most talked about topics in the e-Discovery industry today
Orlando, FL (PRWEB) February 27, 2014
The Masters Conference for Legal Professionals, an advanced legal educational experience, today announced their 2014 San Francisco event, Managing the e-Discovery and Social Media Minefield. The half-day conference will take place March 19, 2014, at The City Club of San Francisco. Registration opens at 11:30 a.m., followed by a keynote lunch at 12:00 p.m., dual-track sessions ending at 5:15 p.m., and a happy hour immediately following the conclusion of the last session. The keynote speaker will be Alex Ponce de Leon, Litigation Counsel for Intel Corporation.
This Masters Conference event will have two tracks from which attendees can choose. The sessions will include:

Discussion and Debate Over Potential Changes to the Federal Rules of Civil Procedure (FRCP)
The Social Media (R)Evolution: How Social Media Content Impacts e-Discovery Risks and Costs
Cloud Computing & Mobile Devices - How to be Prepared for Litigation
Predictive Analytics and Its Effect on Big Data
EU Data Privacy Regulations - New and Far More Stringent?
"We are excited to be back in San Francisco. We have lined up outstanding speakers covering some of the most talked about topics in the e-Discovery industry today," said Founder Robert Childress. "We hope to see many of San Francisco's top legal professionals at The City Club again this year."
Please go to http://www.themastersconference.com to register for San Francisco, see the full lineup of speakers, and to find out more information about upcoming Masters Conference events in Chicago, Philadelphia, and Washington DC.
About the Masters Conference
The Masters Conference provides practical CLE education for lawyers and litigation support professionals that are delivered by experts with front-line experience. Session content for each event is developed by an advisory cabinet of industry thought leaders. Attendees will gain practical knowledge, presented by peers, on current issues that can be applied immediately to everyday practice. Registration is limited for all events. To register online for Masters Conference events, please visit http://www.themastersconference.com. You can find The Masters Conference on Twitter (@MastersConf), Facebook and LinkedIn Groups.