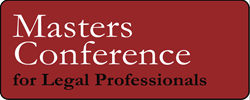 As a highly respected magistrate that was involved in so many important cases over the years, Judge Nolan brings a wealth of unparalleled judiciary knowledge to our forum
Orlando, FL (PRWEB) April 17, 2014
The Masters Conference, an advanced legal educational experience, is proud to announce that Hon. Nan R. Nolan (RET.) will deliver the keynote address for its Chicago event to be held May 28, 2014. Judge Nolan's keynote will be over lunch, beginning at 12:00pm CT. The focus of the half-day conference is "FRCP Amendments, Big Data, Social Media, and Data Privacy. How Do These Impact You?" It will take place at the Metropolitan Club of Chicago from 11:30am to 5:15pm CT, followed by a happy hour until 7:00pm.
Judge Nolan was appointed as a United States Magistrate Judge for the Northern District of Illinois in 1998. She received her bachelor's degree from Loyola University and her J.D. from DePaul University's College of Law in Chicago. Judge Nolan presided over myriad complex cases at every phase of civil litigation during her 14 years on the bench and mediated more than 1,500 cases, as well. She is a nationally recognized expert in electronic discovery and co-founded the Seventh Circuit Electronic Discovery Pilot Program. Judge Nolan is a member of the Advisory Board for the Sedona Conference and of the Georgetown University Law Center E-Discovery Advisory Board. Following her retirement in October of 2012, she joined the JAMS panel and will serve as a mediator, arbitrator, and special master.
"The Masters Conference is honored and excited to have Judge Nolan as our keynote speaker in Chicago," said Robert Childress, Founder and CEO of the Masters Conference. "As a highly respected magistrate that was involved in so many important cases over the years, she brings a wealth of unparalleled judiciary knowledge and experience to our forum.  This should be a great keynote for all of our attendees."
The Masters Conference is designed specifically for -- and complimentary to -- attorneys from law firms and corporate legal departments, as well as litigation support professionals. This limited space event provides practical CLE education delivered by law firm and corporate thought leaders with front-line experience. Attendees will gain practical knowledge on current issues and e-Discovery that can be applied immediately to everyday practice.
Please go to http://www.themastersconference.com/events to register for Chicago, see the full lineup of speakers, and to find out more information about upcoming Masters Conference events in Philadelphia and Washington DC.
About the Masters Conference
The Masters Conference provides practical CLE education for lawyers and litigation support professionals that are delivered by experts with front-line experience. Session content for each event is developed by an advisory cabinet of industry thought leaders. Attendees will gain practical knowledge, presented by peers, on current issues that can be applied immediately to everyday practice. Registration is limited for all events.  To register online for Masters Conference events, please visit http://www.themastersconference.com. You can find The Masters Conference on Twitter @MastersConf and #MCLP12 on Facebook and on LinkedIn.