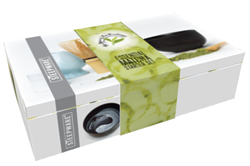 Boulder, Colorado (PRWEB) June 30, 2015
The Tea Spot's customers have enjoyed matcha, a verdant Japanese green tea powder, for years. With the launch of the tea company's new Matcha Starter Kit, customers can now experience the traditional preparation of matcha, as done in the Japanese tea ceremony. This kit makes it easy to develop the skills required to craft a refreshing bowl of matcha, thus making customers' growing appetite for matcha more easily accessible.
The Smitten by Matcha Starter Kit includes all the tools needed to craft a bowl of matcha following the traditional Japanese methods. Matcha tea was brought to Japan in the 10th century from China and its part in the Japanese tea ceremony has since become a significant element of Japanese culture. An art form in and of itself, the Japanese tea ceremony is deeply rooted in zen philosophy and involves the ceremonial preparation and presentation of matcha in order to detach oneself from the ordinary tasks of everyday life and to achieve, if only temporarily, contentment and peace.
The Matcha Starter Kit is comprised of 5 high-quality products used for ceremonial matcha preparation. The ceremonial matcha bowl is the ideal vessel for best observing and appreciating the aroma, appearance, and taste of matcha. The bamboo whisk, or chasen, has been perfected over centuries and is uniquely suited to creating a frothy beverage. To preserve the delicate shape of the bamboo whisk, the ceramic chasen shaper is used for drying the whisk between uses. The bamboo matcha spoon measures out the ideal amount of fine-ground green tea powder. The kit also includes a 12 gram tin of Matcha Green Tea, yielding approximately 12 servings.
The Tea Spot's Matcha Green Tea is an all-natural green tea powder imported directly from Shizuoka, Japan, created by finely grinding green tea leaves. Naturally loaded with antioxidants and L-theanine, matcha is often enjoyed by those looking for a tea with health benefits, as well as to boost relaxation and keep anxiety in check. In addition to its abundant reputed health benefits, matcha is renowned for its crisp and enticing flavor.
The new 5-piece Matcha Starter Kit can be purchased at theteaspot.com and includes a ceremonial matcha bowl, bamboo whisk (chasen), ceramic chasen shaper, bamboo matcha spoon, and a mini matcha tea tin containing 12 grams of matcha. "Smitten by Matcha" will retail for $55.
About The Tea Spot: The Tea Spot is a leading producer of handcrafted whole leaf teas and the creator of Steepware®—innovative tools that make the premium tea experience effortless and accessible. The company's focus has held steadfast since the for-profit philanthropic company was founded by Maria Uspenski in 2004, a cancer survivor drawn to the health benefits of leaf tea during her recovery. Her message is simple and powerful: tea in its freshest form renders premium flavor, unmatched health benefits, and is eco-friendly. The Tea Spot's philanthropic 10% Pledge incorporates its mission to foster health and wellness through loose leaf tea. Ten percent of the company's sales are donated in-kind to cancer and community wellness programs. The Tea Spot is a Colorado-based Certified B Corporation, woman-owned and operated business. theteaspot.com