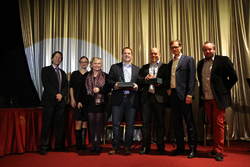 Kimberli J. Lewis, General Manager of SIINDA, shared that "the judges were so excited about the quality of MatchCraft's technology that they agreed on adding a special overall Judges Select Award."
(PRWEB) October 19, 2015
Prague (October 16, 2015) - MatchCraft, (http://matchcraft.com) a global leader in digital marketing technology, won two awards recognizing industry excellence at SIINDA 2015 (Search and Information Industry Association). MatchCraft took home the top prize in the technology category for their AdVantage Platform, the industry's leading platform built for digital marketing companies that offer search, display, remarketing, and social campaigns to advertisers.
In addition to the top prize in technology, MatchCraft also took home the Judges Select Award for overall achievement across digital, voice, and media categories. Sandy Lohr, CEO at MatchCraft said: "At MatchCraft, we push ourselves to innovate and deliver high-performing technology that empowers our partners to deliver market-leading results to their advertisers. It's our job to make sure we keep pace with the evolving digital marketing ecosystem. It's fantastic to be officially recognized by our industry at SIINDA amongst peers."
Kimberli J. Lewis, General Manager of SIINDA, shared that "the judges were so excited about the quality of MatchCraft's technology that they agreed on adding a special overall Judges Select Award." With an impressive client base, made up of dozens of Google and Bing premier partners, MatchCraft's technology has proven it delivers results. The AdVantage platform coupled with the expertise of their client service team, help these organizations efficiently manage ten's of thousands of digital marketing campaigns with media budgets of all sizes.
The awards were held at a gala event in Prague, Czech Republic, where Ms. Lewis, GM of SIINDA presented both the Gold Technology Award, and the Judges Select Award to MatchCraft. Other companies recognized for their excellence in the technology sector included: Mono Solutions, Volt Delta and IT2 Media.
About MatchCraft
MatchCraft provides a best-in-class marketing platform that enables digital marketing companies to successfully sell and manage search, display, and social campaigns for their advertisers. MatchCraft operates in more than 30 countries with technology that supports over 18 unique languages and dialects. Their full suite of platform features include conversion-based bidding algorithms, Google Analytics integrations, call tracking, reverse proxy technology, and AdVisor, the industry's most comprehensive business taxonomy. Founded in 1998, MatchCraft has offices in Santa Monica, California; Leiden, Netherlands; Berlin, Germany; Sao Paolo, Brazil; and Mumbai, India. For more information, go to http://matchcraft.com.
About SIINDA
SIINDA is the Search & Information Industry Association, the leading European based non-profit association bringing together companies in the search (digital, mobile, print, vertical directories and platforms), information, and telecommunication sectors as well as businesses providing "on demand" services. For more information, visit http://siinda.org.
Media Contact:
MatchCraft, LLC.
Austin Luther
Director of Marketing
(310) 314-3320
austin(at)matchcraft(dot)com