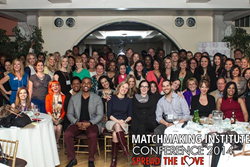 Matchmaking Certification Program with special guest teacher Patti Stanger
Los Angeles, CA (PRWEB) July 29, 2014
Beginning July 31st through August 2nd, Stanger and Matchmaking Institute (http://www.matchmakinginstitute.com/) co-founder Lisa Clampitt will teach hopeful matchmakers how to launch and grow their own professional matchmaking agencies. This comprehensive 3-day training for men and women aiming to be certified matchmakers will take place on Sunset Boulevard in Los Angeles. Following the 3-day workshop, the participants will earn their Certified Matchmaker credentials.
Local press, trainees and established matchmakers in the area will also have an opportunity to network with Patti Stanger at the Matchmakers Cocktail and Networking Event Saturday, August 2nd from 6:30 pm to 9:00 pm at a private location disclosed to those who register and RSVP.
"We care about our industry," said Lisa Clampitt, president of The Matchmaking Institute (http://www.matchmakinginstitute.com/), "so we developed a better way to provide the education to our colleagues. These personal matchmaking services account for about $500 million of the dating industry's worth. This is a real number and we needed a platform for all of us to adhere to."
Some of the topics to be covered during this 3-day training:

Introduction to the Field of Matchmaking
The Psychology and Techniques Behind Matching
Know How to Tell Immediately if Someone is a future Client or a Waste of Your Time
How to Build Your Database with Relationship Oriented Wealthy Clients
Matchmaker Sales Process
What to Charge for What Services
Matchmakers' Code of Ethics
To register for this event, go to http://www.matchmakinginstitute.com and click on the Patti banner to bring you to the registration page.
If you would like to RSVP for the cocktail networking party, please email Jason Silver jason (at) matchmakinginstitute (dot) com.
About the Matchmaking Institute
The Matchmaking Institute, founded in 2003 by Lisa Clampitt, LMSW, was established to set a code of ethics and strict quality standards in the matchmaking industry. It is the first institute offering a Professional Matchmaking Start-Up Kit and Matchmaking Business in a Box, introducing singles to Professional Matchmakers, and providing matchmakers with a network of peers & support.
The Matchmaking Institute (http://www.matchmakinginstitute.com/) is one of the only authoritative voices of the Matchmaking industry with its members providing a reputable and ethical service. It strives to create a greater public and media awareness of this industry and to raise standards across all of the industry and enhance the image of the industry.
The Matchmaking Institute has trained some of the most successful matchmakers in the US and internationally, and is the only state licensed school in the world that offers a degree in Matchmaking.
Media Contact
Erica Arrechea
424.254.9939
press(at)arrecheagroup(dot)com