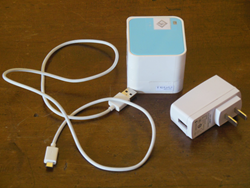 The lack of control on your personal data can affect your life and the life of your loved ones", said Didier Collin, founder and CEO of Matchupbox
Cambridge, MA (PRWEB) June 27, 2014
Did you know information about people, about what they purchase online, about what they search for on Google, and more, is regularly collected and sold by third parties?
In its recent Privacy Index, EMC2 reports that a majority of internet users in the USA (56%) are not willing to trade privacy for convenience and only 37% think that the government is working to protect their privacy. 58% experienced a personal data breach and 88% think that there should be laws prohibiting buying/selling their data without an "opt-in" consent.
Well, TEGO is here to save the day!
TEGO is a stand-alone, all-in-one privacy device designed by Matchupbox, a Boston-based start-up of entrepreneurs who believe that personal data and privacy on the Internet should be protected, controlled and mediated by its users. And today Matchupbox announces the launch of the Kickstarter campaign for TEGO on June 25th.
TEGO gives users protection and control of their personal data, as they browse and interact on the Internet, on any device, wherever they are. With TEGO, they can browse the Internet without fear of their personal data being compromised. They take back control of who accesses their data.
What do we mean by control? They decide what personal data they are comfortable sharing, and with whom, and for how long. It's their choice! Not someone else's.
TEGO is designed with three levels of innovation. First, the privacy is achieved with a decentralized P2P approach. Secondly, anonymity is achieved with communication obfuscation; third, confidentiality is achieved through the use of specific encryption.
TEGO is the first product of Matchupbox based on their privacy framework. Matchupbox wants to provide to consumers a privacy product that is simple, clear and personal, and it has succeeded. TEGO is designed for the use at home or in a small professional office.
The R&D team of Matchupbox, based in Montpellier, France, works in constant collaboration with prestigious French R&D institutes and universities, including EURECOM, Inria , CNRS, Universite de Montpellier.Recently, Matchupox was one of the three finalists in the Boston LeanStartup Challenge and won the Regional Awards from the Young Entrepreneurs Initiative.
"We have worked on this project for more than two years," said Didier Collin, founder and CEO of the company, "and we are confident that, with a little help from Kickstarter backers, we will be able to produce the first batch of TEGOs by the end of the year. This is the most exciting project I have worked on in my entire entrepreneurial life and I know it can change the current paradigm."
TEGO gives its users control over their digital life and whatever personal information they want to protect and share. Matchupbox makes this clear, simple and personal, so users do not have to think about it.
About Matchupbox, inc
Matchupbox Inc, with its headquarters in Boston and its R&D in Montpellier, France, was created by Didier Collin at the end of 2011. It aims to be a global technology provider improving the personal data ecosystem in the digital world. The last few years were spend building a trusted data exchange framework which has resulted in its first product targeting the personal market. Matchupbox is working on a product version for the medical, insurance and financial markets as well as on a version for cable operators and internet providers.
For more information on the company or the product, visit http://www.tegobox.com or http://www. matchupbox.com.