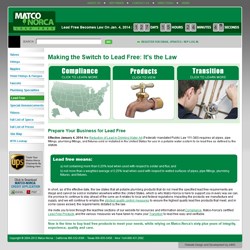 We want customers to know we understand what they need and are willing and able to deliver.
Brewster, NY (PRWEB) August 29, 2013
Businesses rushing to fulfill the requirements of Public Law 111-380 (Reduction of Lead in Drinking Water Act) for lead free plumbing supplies for potable water, which comes into effect January 4th, 2014, can turn to Matco-Norca's new lead free plumbing website to get all the information and supplies they need. In addition to Matco-Norca's certified lead free valves, fittings, faucets, and plumbing specialties, the site offers help with compliance and transition needs.
"In addition to providing customers with extensive information concerning the new law," said Melissa Hunt, Matco-Norca's Marketing Manager, "the new lead free website reflects the many measures we have already implemented to ensure compliance. Starting more than two years ago, we conducted several surveys to learn what customers would need not only during the transition but for on-going support as well. As a result, our lead free products and processes are ahead of the curve and represent the highest quality. Not only are our products tested, re-tested and certified lead free, but they are marked for easy lead free identification as well."
The new Transition section of the site is designed to make transition easier for customers by demonstrating the many measures Matco-Norca has taken on their behalf. Among those listed, are the ways in which parts are easily identified. Matco-Norca worked with its factories to incorporate into the mold the LF identifier found on its lead free parts, as well as notating the appropriate 3rd party approval. They also simplified ordering by keeping the part number the same with the mere addition of LF to identify it as lead free. Other easy identifiers include green color-coded handles and levers and custom branded Matco-Norca lead free packaging labels used exclusively for shipping its lead free products. To ensure only lead free products get into those boxes, orders are fulfilled in a special section of Matco-Norca's warehouse reserved exclusively for its lead free products.
"New laws are always stressful for businesses," added Hunt. "We want customers to know we understand what they need and are willing and able to deliver. Customers can always check the site to learn about new products or updates to the law. To help customers with specific transition needs or any questions about the law, we've also set up a Lead Free Hotline at 800-431-2082. Bottom line: the new lead free website is designed to help customers through all aspects of compliance as this new law comes into effect and expands, including searching, identifying, and purchasing lead free plumbing products with confidence."
Matco-Norca's lead free website can be visited at http://www.matco-norca.com/leadfree or by clicking on Lead Free at http://www.matco-norca.com. Their lead free hotline is 800-431-2082.
About Matco-Norca
Matco-Norca, headquartered in Brewster, NY, is a leading manufacturer and supplier of code-compliant Plumbing, PVF, Waterworks and Irrigation products, including an extensive offering of certified lead free products for potable water, for use in residential, commercial and industrial installations. In business for over 60 years, Matco-Norca operates four national distribution centers in California, Texas, Georgia, and New York. http://www.matco-norca.com. Lead free site: http://www.matco-norca.com/leadfree. Lead Free Hotline 800-431-2082.