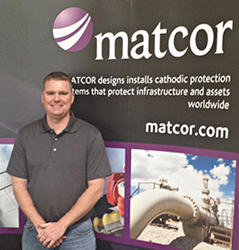 Workforce development is one of the greatest challenges facing the corrosion industry.
Chalfont, PA (PRWEB) April 24, 2014
Isaac, who served previously in the US Coast Guard, completed the NACE Workforce Development Program in late 2013 and joined MATCOR in March 2014 as a technician working out of the company's gulf coast office in Houston, Texas. In this position Isaac performs installation and testing of MATCOR's proprietary cathodic protection products and systems. The NACE program prepared Isaac for the position with MATCOR by providing NACE Basic Corrosion and NACE Cathodic Protection Level 1 certifications.
The NACE Foundation Workforce Development Program addresses the growing workforce needs in the corrosion field. In the first phase of this program, NACE provides job training, including scholarships for corrosion courses and placement assistance to military veterans. Each candidate is also matched with a mentor from the industry who provides advice on networking, training and career opportunities within the corrosion industry and assists in securing an internship or permanent position.
In addition to hiring a recent program graduate, MATCOR supports the NACE Foundation on an ongoing basis by encouraging staff volunteerism. Jeff Didas, Practice Lead-Pipelines for MATCOR, serves on the NACE Foundation Board of Directors and as a mentor. Nickalaus Judd, Director - Field Operations for MATCOR, also serves as a mentor. And, in honor of World Corrosion Awareness Day on April 24, MATCOR recently made a donation to financially support the ongoing efforts of the Workforce Development Program.
"I met recently with a new mentee from the NACE program, and I encouraged him to seriously consider the corrosion industry, where the ability to grow is only hindered by one's desire to do so," said Judd. "I look forward to connecting with him regularly so he can see what MATCOR does firsthand and grow into our industry."
The World Corrosion Organization designated April 24 "Worldwide Corrosion Awareness Day" in 2010 to promote education and best practices in corrosion control for the socio-economic benefit of society, preservation of resources, and protection of the environment.
"Workforce development is one of the greatest challenges facing the corrosion industry, and the NACE program is taking important steps to ensure that candidates are aware of opportunities and qualified for available positions," said Douglas Fastuca, President of MATCOR. "We are very pleased to support this important work of the NACE Foundation and the high-quality pool of military veterans. We are honored to highlight these efforts as part of Worldwide Corrosion Awareness Day this week."
ABOUT MATCOR
MATCOR is a full-service, ISO 9001:2008 certified provider of customized cathodic protection systems to the oil & gas, power, water/wastewater and other infrastructures industries. Cathodic protection is a technique used to control the corrosion of a metal surface through the application of electric current. MATCOR has an array of proprietary cathodic protection products and systems combined with high-quality corrosion engineering, installation and maintenance services.
In business for almost 40 years, MATCOR is considered the technology leader in cathodic protection and corrosion engineering. MATCOR is headquartered in Chalfont, PA, has a service office in Houston, TX, provides turnkey services throughout the United States and has a growing list of international distributors. MATCOR has been named to the Inc. 5,000 list of fastest growing companies in 2011, 2012 and 2013.