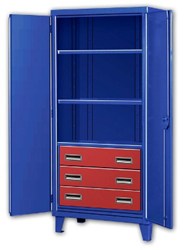 Although A Plus Warehouse is an Older Company it may be New to Some Customers Hence the New to You Promotion. These Potential Customers Will Love Our Storage and Materials Handling Equipment
Lincoln,Nebraska (PRWEB) July 23, 2013
A Plus Warehouse knows that customer crave an interesting and changing list of products. It is one of the goals of A Plus Warehouse to provide customers with such an experience. Old customers know that the company is a highly qualified distributor, offering a wide range of products at low prices. This is why such customers keep coming back. However, others have yet to order anything from A Plus Warehouse. This is why the company is now offering the New to You promotion. According to Ed Stairman, president of A Plus Warehouse, "Although A Plus Warehouse is an older company, it may be new to some customers hence the New to You promotion. These potential customer will love our storage and materials handling equipment." In the New to You promotion, any new customer receives a 5% discount on their order. The company hopes that this incentive encourages new customers.
Obviously, a new customer would want to know what the company has to offer. A Plus Warehouse distributes all sorts of materials handling and storage equipment. The company offers hundreds of products including lockers, shelving, work benches, plastic bins, mats, conveyors, cabinets, racks, platform trucks, scissor lifts, lift trucks, ladders, casters, and much more. If a press release were written about every single product available at A Plus Warehouse, it would reach 100 pages easily. However readers may get a bit bored reading a whole novel about storage and material handling equipment at A Plus Warehouse!
It is important that customers know that A Plus Warehouse is a distributor of equipment, not a manufacturer. This means that the company's sole job is to sell the products, not make the products. The company takes pride in having a large variety from trusted manufacturers such as Hallowell, Vestil , Weso, and many others. A Plus Warehouse is very thankful for their manufacturers because without them, the company wouldn't be in business. It also works in the inverse. Without distributors, manufacturing plants would go out of business.
When ordering a product from A Plus Warehouse, customers know that they are talking to a knowledgeable sales person. Every sales person at A Plus Warehouse is a true professional. In addition, all sales people are in the U.S.A and work full time. A Plus Warehouse does not and will never outsource.
A Plus Warehouse is the operator of http://www.apluswhs.com and distributes materials handling and storage equipment nationwide and throughout Canada. The sales staff at A Plus Warehouse is available at 800-209-8798. A Plus Warehouse has been in constant operation since 1996.