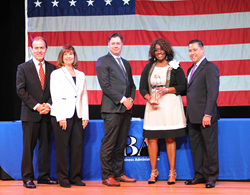 "I am proud to represent Small Business Entrepreneurs throughout the country as a leader who will continue to provide groundbreaking technology solutions to support federal and commercial customers."
Aliso Viejo, CA (PRWEB) May 26, 2016
On May 3rd, 2016 Martha Daniel, President and CEO, of Information Management Resources, Inc. (IMRI), was awarded the 2016 Small Business Person of the Year, at the 53rd Annual Small Business Week Awards program, hosted by the Orange County Hispanic Chamber of Commerce at the Disneyland Hotel Grand Ballroom. Hailing from Region IX, Daniel was granted this award because of her commitment to the small business community, responsiveness to adversity, contributions to local programs, and innovative business technologies. "I am proud to represent Small Business Entrepreneurs throughout the country as a leader who will continue to provide groundbreaking technology solutions to support federal and commercial customers."
Daniel, being a champion in the business community, has also been recognized as an Honoree for the 2016 EmpowHer Los Angeles Change Maker Awards, 2015 Patriot Award (ESGR), and 2014 White House Champion of Change for being a Woman Veteran Leader. Daniel's diligence in inspiring and supporting success in the community is also noted in her keynote speaker engagements at the 6th annual Women as Veteran Entrepreneurs, Irvine Valley College 9/11 Commemoration, and the Biola University's Crowell School of Business for their MBA Distinguished Speaker Series, to note a few.
A true advocate for change, Daniel also contributes her time and resources to various community organizations including the EmpowHer Institute, New Directions for Women, the Child Guidance Center, and the Vicksburg Soccer Organization. She is an ordained minister with the African Methodist Episcopal 5th District, currently serving as Associate Pastor at Christ Our Redeemer African Methodist Episcopal Church in Irvine, CA. Ms. Daniel runs the weekly Women's Bible Study and serves with the prison ministry. She is a member of the Trusteeship - International Women's Forum, a Vice Chair of the Orange County Business Council – Cybersecurity Task Force, and is a member of the Orange County Homeland Security Advisory Council.
IMRI was founded by Daniel in 1992 and has successfully delivered more than $165 million in cyber security, technology, program management, and engineering services to the federal government and commercial sectors. IMRI built its business around the vision of "translating business needs into technology solutions." Today, the company and its 155+ employees manage over $300 million in data center operations, operate within 19 states across the country, support Department of Defense and commercial cybersecurity customers, and are currently supporting the Department of Commerce, FirstNet with the design of the first broadband network dedicated solely to first responders. Current and previous IMRI clients include the Office of the Secretary of Defense; U.S. Cyber Command; Department of the Navy, Army, and Air Force; Executive Office of the President of the United States; Defense Information Systems Agency; Department of Defense combatant commands including AFRICOM and EUCOM; and numerous public and private sector companies such as International Paper, Wells Fargo Barclays, Boeing, Booz Allen Hamilton, Bank of America, City of Los Angeles, City of Memphis, and Memphis Light, Gas and Water.
IMRI's cyber security practice, Cytellix, is at the forefront of innovation in providing cutting-edge cybersecurity solutions and expertise to protect and defend its customers' enterprise systems. Cytellix's solutions deliver real-time and continuous monitoring, analytics, and network discovery of the "known" and "unknown." Following its successful implementation in large federal enterprises, Cytellix has expanded its support to the commercial marketplace targeting businesses, including banks and financial institutions, healthcare facilities, small and medium sized businesses, and finance and auditing firms, to assist them in providing enterprise network situational awareness and vulnerability assessment.
"Our goal is to truly revolutionize the technology space by providing leading edge solutions that help protect customers in the federal, private and public sectors throughout the world," and this is only the beginning according to Daniel.
About IMRI
For over 24 years, IMRI has been translating business needs into technology solutions and today, provides comprehensive cyber security, technology, program management, and engineering services to the federal government, public, and private sectors. IMRI has successfully delivered more than $165 million in contract awards and operates in 19 states with 155+ employees. IMRI and its leadership have received numerous awards and accolades, including from The White House, and is ranked as one of the Fastest Growing Companies in America by Inc. Magazine. IMRI is a certified service-disabled veteran-owned, economically-disadvantaged woman-owned small business and is headquartered in Aliso Viejo, CA, with offices in Washington D.C., and Vicksburg, MS.
For more information, please visit http://www.imri.com/
About Cytellix
Cytellix is the Cybersecurity practice of IMRI and specializes in cybersecurity services and solutions focused on situational awareness, security analytics and continuous threat intelligence/monitoring. For the past seven years, Cytellix has implemented robust cybersecurity solutions that have proven to protect critical enterprise information technology infrastructures offensively and defensively within the DoD, intelligence communities, and federal civilian agencies. In the commercial sector, Cytellix supports some of the world's leading companies and institutions to address cybersecurity end-to-end with solutions and consulting/professional services.
For more information, please visit http://www.cytellix.com/
About the SBA
Since its founding on July 30, 1953, the U.S. Small Business Administration has delivered millions of loans, loan guarantees, contracts, counseling sessions and other forms of assistance to small businesses. SBA provides assistances primarily through its four programmatic functions: Access to Capital (Business Financing), Entrepreneurial Development (Education, Information, and Technical Assistance & Training), Government Contracting (Federal Procurement), and Advocacy (Voice for Small Business).
For more information, please visit https://www.sba.gov/