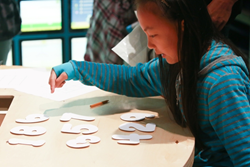 The kids are more excited about math than they've ever been.
Irvine, CA (PRWEB) August 07, 2014
While others played at the beach, 4,200 children and families flocked to the first-ever Math Fair: At the Square Root of Fun on Aug. 2, a free, day-long event hosted by the MIND Research Institute at the Bren Events Center.
Visitors of all ages played with math concepts through hands-on games, exhibits, workshops and rides. Children solved puzzles, designed and built their own games, explored symmetry with lasers and mirrors, used interactive classroom technology to help performers solve a puzzle in the Mystery Math Theater, played with open-source 3D printed mathematical curiosities and much more. More than 300 volunteers, from college students to professors and engineers to Disney Voluntears, were on hand to interact with guests at each exhibit and facilitate learning experiences.
"It was exciting to get so many people learning and celebrating math outside of the classroom," said Matthew Peterson, Ph.D., co-founder, CEO and senior scientist of the MIND Research Institute, and the creator of the fair. "Our hope is that the excitement they felt at the fair motivates them to take on bigger math challenges in the world."
The event was a partnership between the nonprofit MIND Research Institute and corporate and community sponsors who want to inspire a new generation to love math and excel in it, which is important since 20 percent of all U.S. jobs requiring skills in at least one of the science, technology, engineering or math (STEM) fields.
Community sponsors provided buses for families from several locations throughout Orange County, including Santa Ana, where principal Lisa Solomon of Lowell Elementary led a group attending the fair.
"The kids are more excited about math than they've ever been," said Solomon at the end of the fair. "They're able to see how math works in the world, see real-life applications of their learning, and have fun with all of the interactive games."
"Not only have we interested the kids, but also inspired the parents," Solomon added.
The day included math workshops for parents to help their children with math homework, discover how math is everywhere around them, and how to talk to kids about finances. Children took home activity booklets to continue having fun with math learning after the event.
The fair was also the culmination of the K-12 Game-a-thon, which ran from May to July. The top five teams presented their math games before a live audience at the fair, and guests participated in two game design workshops on site for chances to win tickets to Disneyland.
The day of fun concluded with a spirited performance by the JiJi Band, including a "JiJi Style" dance to the tune of Gangnam Style, where students danced alongside JiJi the penguin mascot of the ST Math software games.
The Math Fair was the brainchild of Peterson, who also created the ST Math software program used by more than 110,000 children in Orange County schools. Students often call the program JiJi Math, a reference to the animated penguin whom they help to cross the screen by correctly solving math puzzles on computers or tablets.
First developed in Orange County, ST Math is now used in 35 states, and is proven to double or triple schools' growth rate on standardized math test scores. Because the program uses visual puzzles to introduce math concepts, instead of words, numbers and symbols, it levels the playing field for English language learners and students with learning challenges.
The nonprofit MIND Research Institute has focused on making math accessible and engaging for students since its inception in 1997. However, this is the first large-scale free public event hosted by the organization, and represents an effort to expand math awareness and excitement to children beyond the classroom.
Microsemi was the presenting sponsor of the Math Fair. Other sponsors included 760, Beall Family Foundation, Capital Group, Cox Communications, Deezmaker, Disneyland Resort, El Aviso, Evolution Exhibits, Hispanic 100, Horowitz Group, New York Life Insurance Company, Orange County Register, OC Family, Matthew & Sydni Peterson, Positron, Samueli Foundation, Ted and Janice Smith, Staples, Dr. Cesar Vargas and Wells Fargo Bank.
About MIND Research Institute
MIND Research Institute is an education nonprofit dedicated to ensuring that all students are mathematically equipped to solve the world's most challenging problems. MIND's distinctive visual approach to math and problem-solving is the basis of its innovative, research-proven ST Math® programs for elementary and secondary schools. MIND's programs currently reach over 630,000 students and 25,000 teachers in 2,050 schools in 35 states. For more information, visit http://www.mindresearch.net.