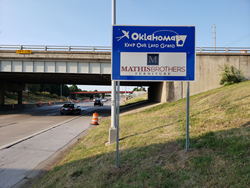 "Mathis Brothers is proud to partner with Adopt A Highway® in cleaning up our roads and communities. We are committed to making our world a better place so the families we serve will have a safer and more beautiful place to live and work."
OKLAHOMA CITY, Okla. (PRWEB) January 24, 2019
Believing both in the benefits to the community as well as the environment, Mathis Brothers decided to sponsor ten signs in the Sponsor A Highway® Program. Being a highway sponsor is one of the ways that the team at Mathis Brothers in Oklahoma City can thank the community for supporting their business.
As Media Director, Harry Fogarty stated, "Mathis Brothers is proud to partner with Adopt A Highway® in cleaning up our roads and communities. We are committed to making our world a better place so the families we serve will have a safer and more beautiful place to live and work."
Providing safe highways in Oklahoma, as well as encouraging sustainability is Mathis Brother's motive behind sponsoring ten highway signs. Harry Fogarty and the rest of the team have committed to the program, in hopes of encouraging safety for all drivers in Oklahoma.
Mathis Brothers opened their first store in 1960, and business has been booming ever since. As a furniture supply retailer, they pride themselves on offering reasonable prices on all their products. Their philosophy is to keep prices as low as possible – thus allowing their customers the opportunity to purchase all the home furnishing items they need while remaining within their budgetary restrictions.
For more information about Mathis Brothers visit: http://www.mathisbrothers.com
For more information about the Oklahoma Sponsor A Highway® Program visit: http://www.adoptahighway.com