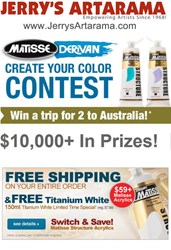 What we're looking for is a new paint color you create or mix on your own. Then you simply go to our website, enter the color you've created.
Raleigh, NC (PRWEB) January 23, 2014
Partnering with Australian acrylic paint maker Matisse Derivan, Jerry's Artarama, the nations premier retailer of fine art supplies and materials, is sponsoring the "Create your Color Contest", a contest for entrants to create their own paint colors to have sold online at JerrysArtarama.com. Fabulous prizes including a grand prize of a trip for two to Australia, egift cards and inclusion in online promotions. Applicants can enter with their own uniquely mixed colors until March 30th, 2014.
"If you've ever wondered why paint companies don't already make a color you constantly find yourself mixing on your own palette, than this contest is right up your alley," says Mike Marchetta, Director of Marketing for Jerry's Artarama Online Division. "What we're looking for is a new paint color you create or mix on your own. Then you simply go to our website, enter the color you've created and if we and the artist community like it, we'll sell it at Jerry's Artarama and send you and one friend on a trip of a lifetime to Australia!"
All entries will be accepted from January 9th, 2014 through March 30th, 2014. Entries will be judged from April 4th- 18th, 2014 by the Facebook fan community and separate panels of judges. Top 20 finalists will be announced April 20th, which will be judged by a separate panel of professional artists and top five finalists will be announced April 23rd. The top five finalists will each have their paints created by Matisse Derivan and sold exclusively in through Jerry's Artarama.
Don't delay and enter today! For a full list of contest rules, timeline for entry and contest details, be sure to visit http://www.jerrysartarama.com, keyword search "CREATE YOUR COLOR" as well as see created color samples, a letter from Matisse Derivan CEO, Steven Patterson and artist testimonials.
Matisse Derivan: The Company, The Acrylics, The Vision
Matisse Derivan, Australia's leader in Acrylic paints has long been special in the eyes of its patrons. Since 1964, Derivan has been striving to offer not only a wide variety of high quality, high pigmented acrylics, but also be environmentally friendly and socially conscious.
Matisse Acrylic Paints are fastly becoming a popular choice among artists and teachers. Matisse Structure Acrylic paints feature excellent light fastness ratings and 96 intense colors, which uses absolutely zero masking agents! Because of their heavy body and high viscosity, Matisse Structure Acrylic Colors are ideally suited to impasto techniques and thick, textured application.
Matisse paint are available exclusively at JerrysArtarama.com and boast a 4.5 star average rating with over 33 reviews online.
In addition to the "Create Your Color" contest, online is a special offer off Free Shipping and tube of 150ml titanium white with orders of $59 of more. Matisse and Jerry's Artarama are teaming up help artists save more money and experience on of the best acrylic paints.
About Jerry's Artarama:
Jerry's Artarama is a national retailer of arts materials and supplies headquartered in Raleigh, NC, with 15 Superstore locations throughout the United States and an online store. Jerry Goldstein opened the first Jerry's Artarama in Long Island, NY in 1968 with the goal of offering quality discount-priced products to established artists. Jerry believed in treating customers like family, a tradition that still continues. Today, Jerry's offers more than 70,000 top-quality art materials and supplies at direct savings- as much as 75 percent off traditional retail on products from the industry's leading art manufacturers, as well as Jerry's own exclusive product lines via the online retail store, art supply catalog and Jerry's Artarama Superstores. In addition, Jerry's Artarama serves as an artist resource by offering instructional workshops, new art supply demos and special art-related events, including the Art of the Carolinas Tradeshow, and annual event held in Raleigh.
For more information, visit http://www.jerrysartarama.com/art-contests/create-your-color/2014.html.
Website:
http://www.jerrysartarama.com
Contact:
Michael Marchetta
919-878-6782