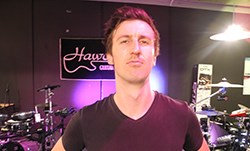 We are both excited and honoured to be acknowledged as the top retailer of Maton Guitars, three years in a row
(PRWEB) August 30, 2013
Haworth Music Centre is celebrating its naming, for the third year in a row, as the biggest selling retailer of Maton Guitars. The company attributes this success to the bond the Haworth staff have with these superior Australian-made instruments.
"Most of the guitar-playing members of the Haworth team own Matons - in fact I own and play several myself," said Haworth Music Centre's Glenn Haworth. "So it's hardly surprising that we have a great appreciation for the workmanship that goes into creating each Maton guitar."
Moving Ahead with AP5 Pro Pickup
"That Maton Guitars now come with optional AP5 Pro pickup is an example," Mr Haworth says, of the constant customer-focused innovation coming from this company that demonstrates tradition in workmanship, yet is progressive in its thinking.
"The AP5 Pro pickup means you can get microphone and piezo - so you can blend between the two to get a really awesome sound when you amplify it," explained Mr Haworth.
"For instance, the CW80 Series has been loved by guitarists all around the world since 1967. It is a true Australian, with solid Queensland Maple back and sides, combined with an AA grade Spruce top. This classic now has the AP5 pickup option."
The Haworth team's appreciation of Maton's proud Australian heritage and reputation for superior instruments, Mr Haworth believes makes Haworth Music Centre's two retail outlets great ambassadors for Maton Guitars.
"We are both excited and honoured to be acknowledged as the top retailer of Maton Guitars, three years in a row," said Mr Haworth.
The full range of Maton Guitars can be found at: http://www.haworthguitars.com.au/products/brands/maton/.
About Maton Guitars
Established in 1946 Maton Guitars has grown into a truly great Australian success story, that currently employs 60 people and remains 100 per cent family owned and operated.
Maton specialises in creating superbly crafted guitars from Australian timbers such as Blackwood, Bunya, Queensland Maple, Queensland Walnut and now Satin Box. Bill May pioneered the use of many Australian wood species in guitar construction, and is regarded by many Australian luthiers as the founding father of their industry.
Together with guitar legend Tommy Emmanuel, Maton developed the APMic system, which utilises both the piezo based system and a microphone which is located in the body of the guitar to pick up on the natural acoustic qualities of the instrument.
See Haworth's full range of Maton Guitars.
About Haworth Music Centre
Haworth Guitars was first established in 1999 by guitar lover and luthier Phil Haworth. His intention was to focus on repairing and building stringed instruments, but in 2000 he added a retail element to his thriving workshop business.
In 2008 the two-level Haworth Music Centre was opened at Albion Park Rail, near Wollongong, south of Sydney, Australia. Staffed by people who thrive in an environment where their love of musical instruments, and music, are encouraged.
Phil now spends most of his time in his guitar workshop. Haworth Music Centre is now run by Phil's son, Glenn, who, as Managing Director has grown the business to include a very active online sales element, a vibrant social media presence, and huge community support.
In 2013 Haworth opened up a second retail outlet in Wollongong, NSW, which features purpose built test-drive rooms, including those for drums, guitars and amplifiers.
More information can be found at HaworthGuitars.com.au, or follow them on Facebook at https://www.facebook.com/haworthguitars