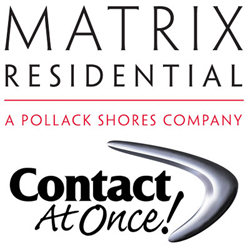 Contact At Once!'s platform has proven to be a valuable tool for engaging with prospects and residents in their preferred environment: online.
Atlanta, GA (PRWEB) April 29, 2014
Matrix Residential's mission is creating exceptional experiences—even online—and they use the Contact At Once! digital conversations platform to add convenience for their multifamily prospects and residents. Contact At Once! allows them to provide secure, tracked text messaging, instant messaging and an "always-on" presence with virtual receptionists for backup answering during busy lease-up periods.
"Property management companies devote a lot of time to both serving residents and increasing occupancy of new developments. The challenge is quickly and effectively responding to all of those inquiries, especially during the lease-up phase," says Ryan Lucia, director of multifamily solutions at Contact At Once!
While consumers can text or chat directly from the property websites and mobile sites of 12 Matrix communities, seven of their new developments now also use Contact At Once!'s all-in-one platform, which includes the Virtual Receptionist service to handle increased activity during lease-ups. If Matrix personnel are unavailable, prospects' texts and chats roll over to virtual receptionists from Contact At Once!. All conversation transcripts and lead information are still tracked and recorded in the property management software.
"Matrix Residential is always striving to find more efficient, cost-effective technology to best equip our teams. Contact At Once!'s platform has proven to be a valuable tool for engaging with prospects and residents in their preferred environment: online," says Dana Pate, marketing director for Matrix Residential. "Our decision to partner with Contact At Once! is not only for the great product offering expected of our demographic, but also the quality of service and support they provide."
ABOUT MATRIX RESIDENTIAL
Matrix Residential, a Pollack Shores Company, is a Southeastern-focused multifamily real estate firm based in Atlanta, Ga. The firm and its principals have managed and invested in more than 35,000 residential units representing more than $3.2 billion in value over the past 30 years. Formed in 2006, senior management has a combined 100-year track record of success in all areas of real estate management including property management, development, acquisitions, leasing, finance and construction management. Their mission? Creating exceptional experiences for the people who live with them, work with them and invest with them. Led by Managing Director, Tracy Bowers, Matrix Residential's current portfolio includes over 8,500 units of garden and mid-rise properties in Atlanta, Nashville, Tampa, Orlando, Greenville, S.C., and Charlotte. Discover more at http://www.MatrixResidential.com.
ABOUT CONTACT AT ONCE!
Contact At Once! software boosts engagement by making it easy for consumers to connect with communities and ask questions at the moment their interest is piqued. For example, the company pioneered the use of mobile text and live chat in multifamily advertising, enabling instant conversations between prospects, residents and property management personnel. Businesses that use Contact At Once! text and chat typically experience a 25 percent increase in online interactions. More engagement translates into more sales, and that's why 13,000 businesses and some of the most highly trafficked advertising websites rely on Contact At Once!. For more information, visit http://www.apartmentchat.com.