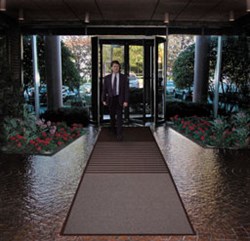 Ordering entrance matting can be a pain many times. It is great to have our all in one entrance matting. It truly makes the job so much easier
Austin,Texas (PRWEB) August 14, 2013
It is time for A Plus Warehouse to select its product of the day. Everyday A Plus Warehouse chooses a new product to focus on. A Plus Warehouse offers such a wide variety of items that customers may not even know about a whole line the company offers. This is why the company has product of the day. A Plus Warehouse tries to evenly distribute the product of the day between the different lines. Today's product of the day is in the entrance matting section. The product of the day is the all in one entrance matting. According to Ed Stairman, president of A Plus Warehouse, "Ordering entrance matting can be a pain many times. It is great to have our all in one entrance matting. It truly makes the job so much easier."
The all in one matting is one extremely long mat. The mat is perfectly integrated into three sections. The first section removes debris. When walking inside, customers want to keep their facilities clean. Without entrance matting, customers would have a dirty facility. A dirty facility is also a dangerous facility. The second section is the beginning of the drying process. This part is especially handy on a rainy day. Last but not least is the touch up section. By this time people are mostly clean and dry, but this final mat takes out any excess and adds an attractive look to any facility. Facility reports show that this type of entrance matting decreases moisture and debris by 85 %.This item is perfect for offices, hotels, and professional buildings. If instead of one long mat customers want three smaller mats, the company normally suggests the complete matting entrance system. This does the same job as the all in one mat. The only difference is the sections are divided into individual mats. The first section is normally outside the building, the second is in the vestibule, and the third is when a person finally enters the facility.
A Plus Warehouse offers much more matting as well. Customers should check out anti-fatigue matting, carpet mats, logo mats, and many others. Customers will never be disappointed when ordering a mat from A Plus Warehouse. A Plus Warehouse is your right source right now. So order now.
A Plus Warehouse is the operator of http://www.apluswhs.com and distributes materials handling and storage equipment nationwide and throughout Canada. The sales staff at A Plus Warehouse is available at 800-209-8798. A Plus Warehouse has been in constant operation since 1996.