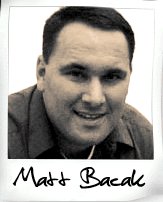 That's why I'm bringing back Marketing Madness Live one last time.
Duluth, GA (PRWEB) July 09, 2013
After a lengthy public speaking stint overseas, Internet marketing legend Matt Bacak is back in the United States, and he's celebrating his return with a resurrection of his popular Marketing Madness Live event. Slated for July 26–27, 2013 on his home turf of Atlanta, Georgia, this new incarnation of Marketing Madness Live is being dubbed the Revisited version. It marks the first time the event is being held since 2008.
After five long years away from the event that he made famous in the Internet marketing world, Matt Bacak is returning to his Marketing Madness Live roots. And the wait is shaping up to be well worth it for budding Internet success sensations. In addition to Bacak himself, the billing for the event also includes three other top Internet marketers. Joining Bacak on the illustrious speaker list is China Dave Gruber, founder and CEO of USA Direct; Mike Stewart, the "Internet Audio and Video Guy"; and Greig Wells, author and creator of Linked Ninja.
With the year already more than half over, time is running out for resolvers to make 2013 the year that changes everything. "It's now or never," explains Bacak. "That's why I'm bringing back Marketing Madness Live one last time. I even handpicked the experts. And what we have in store for attendees surpasses any event I've ever done before."
Given that all the previous events in the series were sellouts, that declaration speaks volumes, but Matt Bacak isn't just blowing smoke. He's backing up his promise with an iron-clad five times the ticket price guarantee. Some of the skills Marketing Madness Live … Revisited vows to arm participants with are how to:

Make the money they need to live the lifestyle they desire
Enjoy the freedom of time for the important things in life like family and loved ones
Take control of their financial future
Devise an action plan to obtain the cash flow they dream about
If anyone can teach others these takeaways, it is Bacak. A large part of the reason Marketing Madness Live has been on hiatus is that Bacak has been cutting back on work to spend more time with his own family. The financial cushion his Internet marketing strategies have padded him with over the years have afforded him that luxury.
Only 100 tickets are available for Marketing Madness … Revisited, all of which are being offered at a steep discount. And if history is any indication, they will sell out fast.
For more information on Marketing Madness Live … Revisited or to register for the event, visit http://marketingmadnesslive.eventbrite.com/. To book Matt to speak at an upcoming event, simply contact his agent Gail Kingsbury.