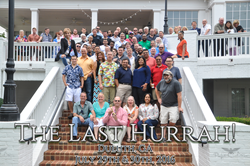 I cannot thank the people who supported me over the last 10 years enough. This get-together was my small token of appreciation for all they've done.
Peachtree City, GA (PRWEB) August 24, 2016
After 10 years and eight Internet marketing events, Matt Bacak's The Profit Coalition is leaving the Sugarland Country Club behind. But he couldn't walk away from his home for the last decade without one last hurrah. To celebrate his move to Peachtree City, Bacak held an exclusive event on the country club grounds, followed by a private party at his personal residence. The farewell celebration took place the weekend of July 29–30, 2016.
According to "Inc." (http://www.inc.com/john-brandon/6-signs-youre-sacrificing-too-much-for-success.html) magazine, the number one sign someone is sacrificing too much for success is giving up family time for work. After devoting the past decade-plus to living his life for everyone else, Matt Bacak has decided to start living it for his family and friends. To get closer to what's important to him, Bacak had to bid goodbye to the place he's called home for 10 years. Rather than mourn the leaving behind, he decided to turn that relocation into a celebration of what prompted it by hosting an exclusive soiree at the country club. It's there that his "The Profit Coalition" has been holding court all these years. He then invited his guests back to his private residence for one final hurrah.
The event's guest list consisted of 120 top marketers from all over the world, many of them VIP members of Bacak's Profit Coalition. The billing included Sam England, Nick James, David Asarnow, David Perdew, Alicia Lyttle, Brian Anderson, Dustin Mathews, Bart Baggett, Colin Theriot, Jeremiah Baker and dozens of others. On top of the non-stop networking opportunities, the party offered underground marketing strategies and tactics. In addition, it served as the venue for the unveiling of this year's "Marketer of the Year" winner.
Big names like Bonin Bough, host of the TV series "Cleveland Hustles," Dave Seymour of the A&E TV series "Flipping Boston" and James Malinchak of ABC's "The Secret Millionaire" also attended the two-day affair. Each invitee was personally hand-selected by Bacak. "Anyone who is anyone was there," he sums up. "I cannot thank the people who supported me over the last 10 years enough. This get-together was my small token of appreciation for all they've done."
Where does Bacak go from here? Fans of the one-time Internet Marketer of the Year need not worry that his move to Peachtree City signals his retirement. Quite the contrary, in fact. Bacak sees his relocation as a fresh start where bigger and better deals will be happening. For starters, he'll be working directly with Bonin Bough, the host of Executive Producer LeBron James' new show on CNBC, "Cleveland Hustles." Plans are also underway to bring the Zen Master of the Internet, Matt Furey, back into the spotlight. New books by Bacak are in the works as well.
For more information on Matt Bacak's "Last Hurrah" at the Sugarloaf Country Club and for details on where he goes from here, visit his video by clicking here. To learn more about the upcoming deals on his agenda, contact Bacak at 404-537-1425.