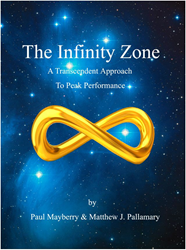 "A prize-winning athlete and a prize-winning writer make a formidable team in this remarkable account of higher states of consciousness and how to reach them. Five stars!" - Dr. Stanley Krippner, World-Renowned Psychologist and Author
San Diego, CA (PRWEB) March 03, 2014
The Italian Foreign translation rights to Mystic Ink Publishing's International Book Award winner "The Infinity Zone: A Transcendent Approach to Peak Performance" have been sold to Gruppo Editoriale Edzioni Mediterranee through a deal brokered by Deanna Leah of HBG Productions at last year's Frankfurt Book Fair.
"The Infinity Zone - A Transcendent Approach to Peak Performance" won the top honor in the 2013 International Book Awards' New Age, Non-Fiction Category over a multitude of international titles published from 2011-2013, "The Infinity Zone" is catching global attention and critical acclaim from both mainstream and new age audiences looking to improve themselves on all levels - mentally, physically and spiritually.
"The Infinity Zone" is a phenomenon that occurs at the nexus of perfect form and motion, bringing balance, coordination and power to physical and mental activities.
The authors, multiple award-winning author Matthew J Pallamary and pro-athlete, Paul Mayberry, combined sacred geometry, the architecture of DNA and the mathematics of Einstein, Rudolf Steiner and da Vinci, among other genius minds, to conceptualize "The Infinity Zone" phenomenon.
Mayberry and tennis pro, Jack Broudy, created a device called the 8Board, based on the concept of "Infinity Zone", which improves the mental and physical conditions of many individuals, including above-the-knee amputees, seniors, physically injured, autistic, weight-challenged, martial artists, dancers, musicians, as well as top athletes in all sports.
World-renowned psychologist and author of "The Voice of Rolling Thunder", Dr. Stanley Krippner raves, "Readers are told how to enhance their balance and power in areas ranging from art and music to sports and body-building. Five stars!"
Science Fiction iconic author, David Brin, author of "EARTH" and "EXISTENCE" says "The Infinity Zone" is "A nifty tour of gorgeous patterns, fun coincidences and inspiring rhythms in nature, body and mind."
Edizioni Mediterranee publishes texts of the esoteric, parapsychology, human sciences, alchemy, astrology, mysteries, yoga, Zen, meditation, psychology, ufology, medicine and health, martial arts, sports, sexology, and crime. They are part of the same publishing group of Hermes Publishing, Arkeios Editions, and Thesis Studio Editions.
HBG Productions is a literary agency representing independent publishers in the international marketplace that specializes in being hands on and personal working closely with clients and publishers. HBG offers author representation and coaching, translation and foreign rights negotiations and international book fair representation.
The English language edition of "The Infinity Zone: A Transcendent Approach to Peak Performance", is available at Mystic Ink Publishing (dot) com, Amazon (dot) com, and at bookstores everywhere. In celebration of the foreign rights agreement, Mystic Ink is offering the English language version of "The Infinity Zone" as a Goodreads Giveaway.
Pallamary and Mayberry are long-time residents of San Diego, CA. Pallamary is originally from Dorchester, MA. His other written works can be found at mattpallamary.com.
Based in San Diego since 2000, Mystic Ink Publishing is an independent publisher focusing on works of a spiritual, shamanic, new age, or transcendent nature.
Based in Santa Barbara, "Innovative Creative Content: What Makes You Different Connects Us All" is a Content Marketing Firm focusing on successful client branding and global marketing through targeted content and storytelling campaigns. For more information, visit their website at http://www.innovativecreative.co or contact them directly at email (at) innovativecreative (dot) co.