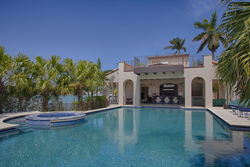 Pompano Beach, Florida (PRWEB) December 17, 2014
Matt Damon's Old Florida style mansion that went on the market in early 2013 has sold and is featured this week on the Top 10 Homes Spotlight at TopTenRealEstateDeals.com.
"Matt Damon's Old Florida Mansion Now Sold"
Having been "The Departed" from his Miami Beach compound for almost two years, Matt Damon has finally captured a buyer. Now living in Los Angeles' Pacific Palisades on the same street as his good buddy, Ben Affleck, Damon has recently starred in George Clooney's "The Monuments Men" and Christopher Nolan's "Interstellar." He is currently starring in a science fiction film in Budapest, "The Martian," based on a novel by Andy Weir.
Matt met Argentine-born Luciana Bozán Barroso in Miami in 2003 while she was working as a bartender and he was filming "Stuck on You." They married in 2005, purchased double lots on La Gorce Island for $14.5 million that included a 1935 Mediterranean-style house they updated to reflect their own style. Matt and Luciana have four children and renewed their marriage vows in Saint Lucia in the spring of 2013, renting out the entire Sugar Beach resort for $600,000. The star-studded guest list included Ben Affleck, Jennifer Garner and Don Cheadle. The ceremony was officiated by Damon's good friend, and occasional arch enemy, Jimmy Kimmel.
Originally listed in April, 2013 for $20 million, the Mediterranean-style mansion looks like Old Florida glamor but with an updated modern interior containing 12,705 square feet with seven bedrooms, ten bathrooms, home theater and custom office. The acre of premium waterfront land includes the main house with wood floors and extensive moldings, gourmet kitchen with professional appliances and prep areas, pool house with roof terrace and outdoor kitchen, both a serenity and walk-in tiled pools, hot tub and a two bedroom guest house all behind lush palm trees and an eight-foot security wall. With 170 feet of water frontage on Biscayne Bay, the estate also has a boat dock and views of downtown Miami. The Atlantic Ocean beaches and multi-million dollar Miami Beach condos and luxury hotels are just a few blocks away. Matt's former neighbors include Jennifer Lopez, Ricky Martin, Calvin Klein and Alex Rodriquez.
With no takers and continuing to lounge on the market, it was reduced toward the end of 2013 to $18.999 million. Since the property just went under contract, the final sale price has not yet been disclosed. The listing agency is The Jills of Coldwell Banker in Miami Beach, Florida.
Visit TopTenRealEstateDeals.com for more celebrity, historic, famous and spectacular homes.