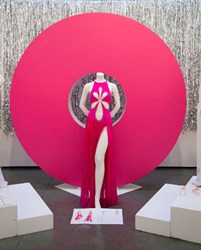 Los Angeles, CA (PRWEB) January 06, 2014
Otis College of Art and Design and Mattel have partnered to present a unique creative collaboration between students from five different creative disciplines to celebrate Malibu, CA's most fashionable resident, Barbie®, as she renovates her new home. The show entitled Barbie's Housewarming Party, hosted by Santa Monica Place in Santa Monica, CA, will feature work created by Otis students and will be on view January 18-20, 2014 (walk-thru), January 22-29, 2014 (window display) in a retail space adjacent to Nordstrom on level two of the shopping center.
As a 2011 Creative Vision Award recipient, Santa Monica Place has a long-standing relationship with Otis. "Fashion is a major element of the experience at Santa Monica Place," shares Julia Ladd, AVP, Property Management, "and the Barbie Housewarming exhibit invites our community to experience the creative interpretation of both art and fashion in the work of Otis students."
"Barbie made major renovations to her Malibu Dreamhouse and invited Otis students to use her home and life as inspiration," said Peter Helenek, Vice President of Girls Global Packaging at Mattel. "Barbie is also a big supporter of young emerging talent, so it's been a fun and exciting partnership."
Barbie's Housewarming will feature work by students from across the College including:

Fabulous swimsuits and cover-ups (Fashion Design);
Chic interior accents and furnishings (Product Design);
One-of-a-kind paintings (Fine Arts);
Impressive guest house with pool, dance floor, and indoor/outdoor entertainment center (Toy Design); and
Short films about Barbie's influence and impact on art and design (Liberal Arts and Sciences)
"Otis students have collaborated with some of the most well-known designers and artists," said Rosemary Brantley, Chair of Otis' Fashion Design Program, "Barbie was the perfect mentor. She's sophisticated, a world-traveler, and the ultimate fashionista." Rod Beattie, America's premier swimsuit designer also lent his expertise to the project.
Natasha Carovska, a first-year student at Otis studying Liberal Arts and Sciences, examined Barbie's cultural impact and commented on deeper lessons learned. "With Barbie, we find that she is teaching the young girls of the future to grow up and follow their dreams. Barbie was really a breakthrough. An African American Barbie Doll emerged in 1968 when the civil rights movement was happening. In 1965 she was an astronaut, the same year the U.S. was pushing space exploration, and in 2000 Barbie was a presidential candidate. Barbie has had every single career under her pink belt as if to say, 'Hey, yeah. I'm a girl. I can do anything…and in heels, too!'"
For more information visit http://www.otis.edu/barbie.
Visit Barbie on Facebook (Facebook.com/Barbie) or http://www.BarbieMedia.com.
Exhibition Location
Santa Monica Place
395 Santa Monica Blvd., Level 2 near Nordstrom
Santa Monica, CA 90401
ABOUT MATTEL
Mattel, Inc. is the worldwide leader in the design, manufacture and marketing of toys and family products. The Mattel family is comprised of such best-selling brands as Barbie®, the most popular fashion doll ever introduced, Hot Wheels®, Monster High®, American Girl®, Thomas & Friends®, Fisher-Price® brands, including, Little People®, Power Wheels®, as well as a wide array of entertainment-inspired toy lines. In 2013, Mattel was named as one of FORTUNE Magazine's "100 Best Companies to Work For" for the sixth year in a row. Mattel also is ranked among Corporate Responsibility Magazine's "100 Best Corporate Citizens." With worldwide headquarters in El Segundo, Calif., Mattel employs approximately 30,000 people in 40 countries and territories and sells products in more than 150 nations. At Mattel, we are creating the future of play. Visit us at http://www.mattel.com, http://www.facebook.com/mattel or http://www.twitter.com/mattel.
ABOUT OTIS COLLEGE OF ART AND DESIGN
Established in 1918, Otis College of Art and Design is a national leader in art and design education. The College mission is to prepare diverse students of art and design to enrich our world through their creativity, skill, and vision. Alumni and faculty are Fulbright, MacArthur, and Guggenheim grant recipients, Oscar awardees, legendary costume designers, leaders of contemporary art movements, and design stars at Apple, Abercrombie & Fitch, Pixar, DreamWorks, Mattel, Nike, and Disney. Otis enrolls approximately 1,100 full-time students, and offers Bachelor of Fine Arts degrees in Architecture/Landscape/Interiors, Digital Media (Game and Entertainment Design, Animation, and Motion Design), Fashion Design, Communication Arts (Graphic Design, Illustration, and Advertising Design), Fine Arts (Painting, Photography, and Sculpture/New Genres), Product Design, and Toy Design. Otis also awards the Master of Fine Arts degree in Fine Arts, Graphic Design, Public Practice, and Writing. The five-acre main campus is located on L.A.'s Westside near the beach and LAX; Fashion Design is in the heart of the downtown fashion district; and the Graduate Studios are on the Creative Corridor in nearby Culver City and in the 18th Street Arts Center in Santa Monica. 2,700 adults and children participate in Continuing Education art and design classes and workshops.
 
ABOUT SANTA MONICA PLACE
Winner of the prestigious VIVA "Best of the Best" Award for excellence in design and development by the International Council of Shopping Centers, Santa Monica Place is located just steps from the Pacific Ocean and adjacent to Third Street Promenade in the heart of Santa Monica. The three-level, open-air Santa Monica Place is home to Bloomingdale's, Nordstrom, CB2, Nike, Louis Vuitton, Tiffany & Co, Burberry Brit, Kate Spade New York, Jonathan Adler, AllSaints Spitalfields, and dozens of other exciting specialty stores and food experiences. For more information visit http://www.santamonicaplace.com or interact with us via Facebook, Twitter, Pinterest, and Instagram.