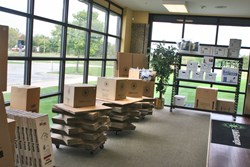 (PRWEB) September 11, 2013
LifeStorage of Matteson is hosting a yard sale to benefit the Food Pantry of Rich Township. This is the third year the Yard Sale for Donations has taken place to benefit this food pantry, with very good turnout the last couple of years.
The yard sale will take place on Saturday, September 14th, from 9:00 a.m. to 4:00 p.m. as part of their continued efforts to support the Food Pantry of Rich Township.
"For the last three years, we have had a donations box in the office to collect food for the pantry as well," said Allison Thomspon, store manager of LifeStorage of Matteson. "We had participated in the Walk for Hunger a couple years ago."
So far the items collected for the yard sale include furniture items, strollers, and exercise equipment. Some of the furniture items we've collected include desks, end tables, coffee tables, recliners, and couches. Donations will be accepted through September 12th.
Thomspon said she's expecting a good turnout. Efforts to get the word out about the sale included passing out several flyers and sending an email blast to customers and previous customers, and it will also be advertised in the South Town Star.
"We at LifeStorage love to help out within the community," said Thomspon. "If it was not for our customers, we would not have a business."
About LifeStorage
Since 2002, LifeStorage has been providing clean, secure, convenient, and affordable self storage facilities for the home and business. With locations nationwide, including many Chicago storage facilities, you can always find a nearby climate-controlled LifeStorage facility to fit your needs.