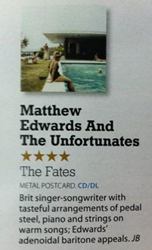 "Matthew Edwards is quite probably the best songwriter in the world." -- Big Takeover
Gloucestershire, England (PRWEB) October 01, 2015
This weekend, widely-acclaimed singer and songwriter Matthew Edwards will play a solo show opening for legendary Fairport Convention and King Crimson vocalist Judy Dyble.
South Woodchester venue The Convent will play host to the two artists. The show will be the first time Edwards has supported Dyble's and her new folk rock group Band of Perfect Strangers and is expected to be well received by fans and newcomers alike.
To purchase tickets or find venue information, please visit The Convent. The two English songwriters' shows will also be streamed live and can be viewed worldwide on October 3rd at 21:00 PM GMT / 13:00 PM PT via Netgig.
Edwards is best known as the frontman of his band Matthew Edwards and The Unfortunates. The group's melancholy pop album, The Fates, was released by Metal Postcard Records in 2014. The Fates received a four-star review from MOJO and was called "a great record, blessed with snags of understated charm, originality and pure lambent beauty" by Shindig. The group frequently play shows in London and Birmingham and recently played the Lunar Festival in Tamworth-in-Arden.
Edwards has a loyal following in the US and UK. Music magazine Big Takeover said "Matthew Edwards is quite probably the best songwriter in the world" and Caught in the Carousel's review noted Edwards' "lush, spry, sweepingly concise arrangements that are also unmistakably, unerringly, British in tongue and tone." Matthew's songs have been featured as a Rolling Stone download and have also premièred on a Pepsi podcast.
On The Fates, The Unfortunates are joined on electric guitar by Fred Frith (Henry Cow, Eno, Robert Wyatt). The record is produced by Eric Drew Feldman, a key member/producer of legendary bands Captain Beefheart, P.J. Harvey and The Pixies. Eric also plays the pump organ and the mellotron and frequently plays live with the group.
Dyble is a multi-award-winning singer who rose to fame as one of the vocalists and founders of UK folk band Fairport Convention. In 2002, the group was awarded a BBC Radio 2 "Lifetime Achievement Award" and in 2006 were voted winners of the Radio 2 "Most Influential Folk Album of All Time" award. Later, Dyble found cult success with the duo Trader Horne.
Dyble's most recent release, Gathering the Threads: 50 Years of Stuff, is an anthology of tracks from throughout her career and numbers only 450 copies. She will appear at The Convent alongside fellow Band of Perfect Strangers musicians Alistair Murphy, Mark Fletcher, Jeremy Salmon, Phil Toms and, for this night only, violinist Steve Bingham.
Edwards, whose work has been influenced by that of Dyble's, commented: "I'm absolutely honoured to be playing alongside a musician of Judy's stature. Finding myself opening for one my musical influences is sensational."
Praise for Edwards and his group Matthew Edwards and The Unfortunates:
MOJO: "**** Brit singer-songwriter with tasteful arrangements of pedal steel, piano and string on warms songs; Edwards' adenoidal baritone appeals."
UNCUT: "The Fates rolling wordplay recalls Kevin Ayers; all wry wit and melancholy."
SHINDIG: "The Fates is a great record, blessed with snags of understated charm, originality and pure lambent beauty."
THE QUIETUS: "(Edwards is)... an urban romantic troubadour, heir to Brel and Gainsbourg, disillusioned but still dreaming (and drinking, and smoking), and determined, though impecunious, never to do or say a commonplace thing... the quality of a Scott Fitzgerald short."
MUSICAL VIEWS & REVIEWS: "… Intelligent and literate songs. In barroom banter, Matthew Edwards is frequently compared to Elvis Costello…"
THE WORD: "Edwards' love-broken lyrics to suggest a lost Graham Greene novel about seedy Brits shipwrecked in Caesars Palace rather than Port-au-Prince... immaculate."
For more information on Matthew Edwards and The Unfortunates, please visit: http://www.matthewedwardsandtheunfortunates.com/. The Fates album is available for purchase on BandCamp. The band posts concert information and more on their Facebook page.