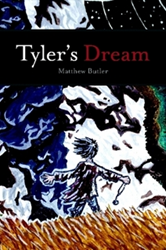 PADDINGTON, Australia (PRWEB) August 11, 2015
Author Matthew Butler describes his new fantasy novel as a "'The Lord of the Rings' meets Goosebumps mash-up," featuring vast, fantastic landscapes and nightmarish creatures. "Tyler's Dream" (published by Lulu) hopes to fill readers with suspense and thrills while also telling a beautiful story.
Tyler is a boy whose sworn enemy is a hideous monster called a Ghatu. When a terrible nightmare is pursuing Tyler and Ghatu across the world, the two must join forces to outwit and ultimately defeat the creature.
A decade's worth of work went into Butler's book. Included in "Tyler's Dream" are illustrations and detailed maps. Butler wanted readers to become immersed in a story rich in details. He feels that his book delivers a unique story that is appropriate for any age.
"It is an addictive roller coaster, perfect for this generation," Butler says. "In a world where books compete with television for attention, a novel has to deliver a knockout on every page. Nothing is what it seems in 'Tyler's Dream.'"
An excerpt from "Tyler's Dream":
"The front doors smashed inwards. A sheet of billowing snow sucked into the warmth of the hall, causing the oiled torches to spit and crackle. One lone man was silhouetted against the doorframe, half bent from what Tyler thought must be either exhaustion or pain. Behind him loomed a battered cart with but a single horse to pull it. A rider was draped across its narrow seat."
"Tyler's Dream"
By Matthew Butler
Softcover | 6 x 9 in | 200 pages | ISBN 9781483424132
E-Book | 200 pages | ISBN 9781483424125
About the Author
Matthew Butler grew up in Zimbabwe, where he won a national award for his writing. After a time in Oxford, England, he migrated south to Australia, where he continues to write and illustrate for various publications. He is the CEO of a large public company, a certified chartered accountant, a graphic designer and a user experience expert.
Lulu empowers people of all ages to explore and express their interests, passions and expertise through books, photography and art. Since introducing self-publishing in 2002, Lulu has empowered creators in more than 225 countries and territories to produce nearly two million publications. Lulu Jr. allows children to become published authors, encouraging creativity, strengthening literacy and building self-esteem. Picture.com offers professional photography of collegiate and professional sports, memorable and historic events, fine art and home décor. For more information, please visit lulu.com.