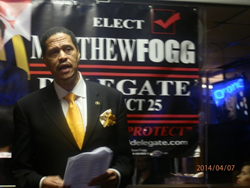 I only regret having one lifetime to defend the human rights of others.
Clinton, Maryland (PRWEB) April 12, 2014
Having been placed on the ballot for the June 24th Primary election through a grass-roots campaign, Fogg has garnered support from the people of the 25th district. Several local organizations have also endorsed Fogg as their candidate. The district encompasses: Capitol Heights, Clinton, District Heights, Forestville, Morningside, Springdale, Temple Hills, and Upper Marlsboro.
Fogg, a native of Washington D.C., is an identical twin and the youngest of 10 children. Graduating from Marshal University with a Bachelors of Science degree in Criminal Justice, he later received honorary Masters and Doctorate degrees recognizing his exemplary abilities to affect positive change in the areas of law enforcement, civil, and human rights.
Fogg recently served as 1st Vice President of Blacks In Government (B.I.G.), President of the B.I.G. Ronald H. Brown Chapter at the U.S. Department of Commerce, and Council Representative of B.I.G. Region XI. Fogg has personally sponsored seven resolutions which passed before the B.I.G. National Delegates: Racial Profiling; D.C. Tax Without Representation; Racism in the War On Drugs; Genocide in Darfur; Appeal of the U.S. Patriot Act; Suspension of TASERS by Police Officers; and, Abolishing the U.S. Death Penalty. Matthew's exemplary service speaks for itself. He is true to his oath to serve and protect the people. Fogg is a clear choice in this, this time for the citizens of Prince George's County, District 25.
Advocating for taxes for small businesses, equal pay for women, ending the preschool to prison "pipeline," fixing flaws in the education system and ending racist laws and predatory policing operations in Maryland are top priorities on the Fogg Campaign platform. The 25th district candidate is convinced that the economic future of our state involves having a living wage to replace the minimum wage, eliminating overspending, and over regulation issues. Fiscal responsibility on a fundamental level is mandatory and will require strong, leadership who will remain true to his oath to uphold the Constitution of the United States of America; to protect those he was called to serve without compromising his values or their trust.
"I only regret having one lifetime to defend the human rights of others," quoting the humble hero. Fogg was a first responder during the events of 911, one of the worst attacks on American soil to date. He won a landmark, $4 million, whistleblower lawsuit against the United States Department of Justice, US Marshal Service in the case: Matthew Fogg VS. Janet Reno Civil Action 94-2814 in U.S. District Court, Washington, D.C..
Matthew Fogg has a lifetime of accomplishments proving his abilities to affect positive change in his "run for justice." Now he is running to serve and protect the Citizens of Prince George's County, District 25. To learn more about Matthew Fogg and how to support his candidacy for the 25th district state Delegate seat, please visit: Matthew Fogg for District 25.