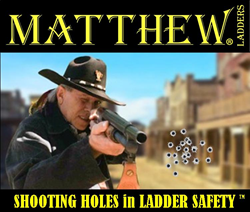 Tennessee Company prepares launch of Safety Stepladder by giving away tools
(PRWEB) November 28, 2014
Matthew Ladders of Maryville, TN has figured out a way to keep people from injuring themselves while working on stepladders. The new product goes by the names Safe Ladder® and Matthew Ladders "World's Safest Ladder"®. Its most notable benefit to ladder users is that is extremely sturdy and incredibly difficult to tip over. Matthew Ladders Chairman/CEO, M.S. Matthew, invented the ladder and it took him about 30 minutes to tip Safe Ladder® over. M.S. Matthew says he ended up breaking a sweat trying to tip over Safe Ladder®.
A quick review of the endorsements on the company website will lead to believe that this product is a winner. However every great product still needs a solid marketing plan. This holiday Matthew Ladders plans to attract followers by giving away money and tools in the form of a contest. This contest should coincide nicely as the company's safety stepladder nears completion.
This November Matthew Ladders launched the "Shooting Holes in Ladder Safety" Contest. The company plans to give away a $250 cash rebate as the grand prize and another $250 in gift certificates for tools that provide safety when working with ladders. The cash rebate will come in the form of Matthew Ladders Dollars, a certificate that can be redeemed as cash or credit.
To enter the contest, fill out an entry form at http://www.giveaway.matthewladdersinc.com . The "Shooting Holes in Ladder Safety" Contest ends December 17.
About Matthew Ladders
Matthew Ladders is a forward thinking company that invents and manufactures Safe Ladder Products. The company crown jewel, Safe Ladder®, is expected to be available to the public in early 2015. The ladder manufacturer is also responsible for the creation and management of Steps For A Family, a charity focused on assisting children and families through charitable giving events and disaster recovery efforts.
Contact:
Jarret Hendrickson, President
Direct 949-205-4042
JarretHendrickson(at)MatthewLaddersInc(dot)com
Matthew Ladders, Inc.
2527 Big Springs Rd.
Maryville, TN 37801
Website: http://www.matthewladdersinc.com/