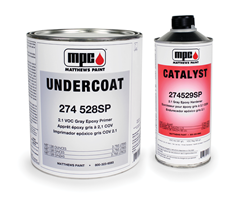 The ability to cover a large variety of substrates, including stainless steel, makes the 2.1 Low VOC Gray Epoxy Primer the go-to primer for fabricators looking to consolidate the number of primers used
Delaware, OH (PRWEB) April 26, 2016
Matthews Paint's newest low VOC epoxy primer provides corrosion resistance, excellent paint adhesion and increased paint durability. It is an ideal primer in areas where a maximum 2.1 VOC is required. In addition, the 2.1 Low VOC Gray Epoxy Primer does not contain target-HAPs (Hazardous Air Pollutants) and complies with the EPA 6H Rule.
The 2.1 Low VOC Gray Epoxy Primer has the added advantage of fast dry times. Having a Dry-to-Handle time of 30 to 45 minutes and a Dry-to-Topcoat time of only 45 to 60 minutes makes this primer ideal when production time is critical.
"The ability to cover a large variety of substrates, including stainless steel, makes the 2.1 Low VOC Gray Epoxy Primer the go-to primer for fabricators looking to consolidate the number of primers used," stated Jan Scheske, Manager of Marketing and Customer Service at Matthews Paint. This sandable primer is recommended for properly prepared steel, stainless steel, blasted steel, carbon steel, galvanized steel, aluminum, fiberglass, body fillers, masonry, wood, sign foam and previously painted surfaces.
This two-part system consists of the Epoxy Primer (274 528SP) and the 2.1 Low VOC Gray Epoxy Hardener (274 529SP), with a mix ratio (by volume) of 4:1. The usable pot life is approximately 4 hours at 70°F (21°C).
To learn more, call 800-323-6593 or visit http://www.MatthewsPaint.com.
About Matthews Paint
For over 80 years, Matthews Paint has manufactured the highest quality of industrial coatings for their customers. As a major supplier to the architectural signage industry, Matthews Paint works with fabricators, designers and architects in coating technologies and color development including a library expanding to more than 80,000 colors. Matthews Paint continues to lead the industry with environmentally-minded products while maintaining high standards of performance.
###