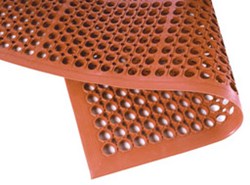 Many customers need food service matting and we have it at a nice low price!
Phoenix,Arizona (PRWEB) August 06, 2013
Its that time of day again. Everyday A Plus Warehouse announces its product of the day. These products range from lockers to shelving. Product of the day is a creative tool for A Plus Warehouse to reach out to potential customers. With such a wide range of products, it is easy for a customer to over look a couple. This is why A Plus Warehouse has the product of the day. The company points out the best products offered. Today's product of the day is food service matting. This is a popular item at A Plus Warehouse. According to Ed Stairman, president of A Plus Warehouse, " Many customers need food service matting and we have it at a nice low price!" As Ed mentioned the company's prices are low, however this does not mean that quality is sacrificed. All items sold at A Plus Warehouse are high quality. Food service matting falls under A Plus Warehouses general matting category.
Matting is a specialty at A Plus Warehouse. The company has many types of mats including safety, industrial, and entrance mats. The food service mat is a type of safety mat. This type of matting is suggested in areas where machinery is used. This goes for heavy and light machinery. Other safety matting includes but is not limited to anti-fatigue matting, assembly line matting, swimming pool matting, and wet area matting.
A Plus Warehouse is happy to showcase food service matting. This matting has always been a customer favorite. This item is also always in stock. The company is aware that when customers want products they want them as soon as possible. Customers breathe a sigh of relief when they here this item is in stock. The mat is designed to withstand harsh chemicals while creating a slip resistance surface. This is an extremely important feature. Too often people can slip and get severely injured without matting. Having this mat drastically reduces that chance. Safety first is one of A Plus Warehouse's mottos. The product also features four molded beveled edges. This improves safety and provides easy cart access. Large and small hole drainage also allows for quick drainage of liquids. This product also comes either grease resistant or grease proof for a bit extra. Black is grease resistant and red is grease proof. A grease proof mat is shown to the right. Customers should order food service matting today.
A Plus Warehouse is the operator of http://www.apluswhs.com and distributes materials handling and storage equipment nationwide and throughout Canada. The sales staff at A Plus Warehouse is available at 800-209-8798. A Plus Warehouse has been in constant operation since 1996.