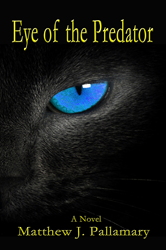 What or where are the boundaries between what is real and what we imagine?
Los Angeles, CA (PRWEB) September 03, 2014
Award winning author Matthew J. Pallamary's latest supernatural thriller, "Eye of the Predator" will be released by Mystic Ink Publishing at the Southern California Writer's Conference in Los Angeles on September 19, 2014 at the Hyatt in Newport Beach, and will be available in print and e-book formats from booksellers worldwide. Pre-orders for the e-book are now available from iTunes and Smashwords.
Set in San Diego and in California's High Sierras, Pallamary's thriller tells the story of Erik Simpson, a brilliant young zoologist who has no memory of his life before the age of sixteen. Trained by his aging foster father, a world renowned zoologist, Erik astounds his colleagues with his insights into animal behavior.
As his thirtieth birthday approaches, Erik has a recurring dream of being hunted by a black jaguar. One night he dreams of the hunt, first as an observer, then as the jaguar itself on the prowl in California's High Sierras where he mauls campers in a savage frenzy.
His quest for the truth leads him into a murky world of magical plants and ancient shamanic rituals that ultimately bring him face to face with the enigmatic mystery of his past.
Starting August 27th fans will have a chance to win a copy of Eye of the Predator from a Goodreads Book Giveaway.
Editor in Chief of Muse Harbor Publishing, Matthew J. Pallamary's recently published tribute to Ray Bradbury, a short story collection titled "A Short Walk to the Other Side" was an Award Winning Finalist in the International Book Awards.
His historical novel Land Without Evil received rave reviews, and was adapted into a multimedia aerial extravaganza, directed by Sarah Agent Red Johnston and performed by acrobatic troupe, Sky Candy to sold out audiences. The making of the show, filmed as a PBS episode of Arts in Context, garnered an EMMY nomination.
His memoir Spirit Matters, detailing his journeys to the jungles of Peru, took top honors in the San Diego Book Awards' Spiritual Book Category, and was an Award-Winning Finalist in the National Best Book Awards. It was also released as an audio book, narrated by the author. Originally from Dorchester Massachusetts, Pallamary has lived in San Diego for the past 35 years. For more about Pallamary, or to book him for speaking engagements or interviews visit http://www.mattpallamary.com.
Based in Santa Barbara, "Innovative Creative Content: What Makes You Different Connects Us All" is a Content Marketing Firm focusing on successful client branding and global marketing through targeted content and storytelling campaigns. For more information, visit their website at http://www.innovativecreative.co or contact them directly at email (at) innovativecreative (dot) co.