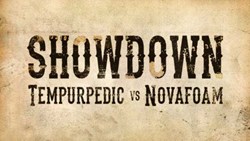 New Orleans, LA (PRWEB) November 05, 2013
When shopping for a new mattress, it can be helpful to see how brands compare in terms of value, durability, and performance. The Sleepy Shopper, a bed and sleep blog, offers an ongoing Mattress Comparison Showdown column to provide answers and compare brands.
The latest installment of the series, "Mattress Comparison Showdown: Tempurpedic vs Novaform", contrasts two different brands of memory foam that offer similar types of mattresses but target different markets. Tempurpedic is the largest brand in traditional memory foam and one of the most recognizable industry brands. Novaform is a smaller brand offering less expensive traditional and gel memory foam via discount retailer Costco and online retailers.
The Sleepy Shopper aims to highlight the similarities and differences between both companies in the comparison, offering a neutral, information-based analysis. A brief introduction of each brand and their product offerings lead the article to provide background, after which the blog introduces a scorecard and more thorough explanations. The Sleepy Shopper explains that while these two brands target different segments, considering each line's pros and cons can highlight advantages of each to help consumers identify the best option for their needs.
Factors covered in the comparison include: overall owner satisfaction, density, responsiveness, pain and pressure relief, motion isolation, sleeping hot, odor, and eco-friendliness. Additionally, the article provides information product availability, durability, warranty and pricing.
A comparison chart summarizing the details leads the comparison. For each aspect, both Novaform and Tempurpedic are scored and 5-point scale, corresponding to standard letter grades, A, B, C, D, and F. Details like density in pounds, percent of owners who report satisfaction, price range and years of warranty are also provided for quick, simple comparisons.
Following the summary table, The Sleepy Shopper goes into the details of how each rating was arrived at and offers more in-depth comparisons for readers seeking more extensive information. Several factors like owner satisfaction, pain relief, motion isolation, and eco-friendliness were similar for each option, though clear differences appear in pricing and performance indicators. For example, Tempurpedic beds cost two to four times more but have better reports for durability and lifespan, although Novaform scored slightly better on heat retention, odor and responsiveness.
The article's comparisons offer useful information for people considering either line or memory foam in general. Details about density and other facts that can be hard to locate are offered and presented in an unbiased manner to allow readers to draw conclusions based on their personal ideas of comfort and value. The Sleepy Shopper also links to a couple of their previous Mattress Comparisons contrasting Tempurpedic and Amerisleep as well as Tempurpedic and iComfort for readers seeking additional information.
TheSleepyShopper.com offers insights and information for consumers, focusing exclusively on mattresses, pillows, bedding and sleep products. Utilizing an accessible, responsive blog format, the website aims to help educate consumers about their options and on making better buying decisions. From industry research, to product reviews, and general guides, the blog is a must-read for anyone in the market for a new mattress.