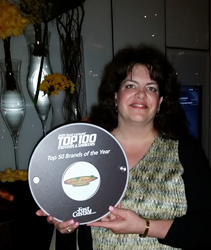 We would like to congratulate Starbucks on being No. 9, but they shouldn't get too comfortable. Next year, we plan to top them on the list.
Chicago, Illinois (PRWEB) May 27, 2015
FastCasual.com's editorial team has released its annual list of the industry's most significant brands and trends, awarding Maui Wowi Hawaiian Coffees & Smoothies the 35th spot. The 2015 Fast Casual Top 100 Movers & Shakers publication is now available for download, and comes after an awards gala last week in Chicago, which coincided with the National Restaurant Association tradeshow.
"This award marks a significant shift in overall awareness of Maui Wowi, as we have beat out similar concepts like Jamba Juice, Tropical Smoothie Café, and Juice It Up on this year's list," said Mike Weinberger, Chief Executive Officer of Maui Wowi. "We would like to congratulate Starbucks on being No. 9, but they shouldn't get too comfortable. Next year, we plan to top them on the list."
One of Maui Wowi's long time franchisees and Directors of Regional Support, Mary Bigler of Minnesota, attended the gala as a representative of the company.
"As a franchisee for 13 years, I have seen us come a long way. Seeing the Maui Wowi brand come from a simple mobile smoothie concept to a Mover & Shaker being recognized in the Fast Casual Top 100 is exciting," said Bigler. "I was proud to accept the award on behalf of our Maui Wowi 'ohana."
This year's list included 75 brands in which judges narrowed down from a pool of 900 nominations from FastCasual.com readers. Criteria included innovation, growth, social responsibility and overall contribution. The last 25 spots on the list went to the year's most influential menu and technology trends as well as the industry's most innovative marketing campaigns.
"The idea behind our Movers and Shakers list is to recognize brands that are going beyond simply generating positive sales and unit growth," said Cherryh Butler, managing editor of FastCasual.com. "The process has a bit more subjectivity to it — to identify brands that are taking big risks and making fundamental changes that could dramatically shake up the fast casual status quo."
About Maui Wowi Hawaiian
Since 1982, Maui Wowi Hawaiian has embraced the Hawaiian culture and has been serving paradise in a cup since the day it began, over 30 years ago. From event carts, mall kiosks and stand-alone retail locations, Maui Wowi Hawaiian offers premium, all-natural, gluten-free, fresh-fruit smoothies, as well as gourmet Hawaiian coffees and espresso beverages. The company maintains strong community involvement through fundraising efforts by its franchisees, in addition to Team Karma; an initiative that promotes corporate responsibility and giving back to the community. The brand has more than 450 operating units in seven countries and an online store, shop.mauiwowi.com. To learn more information about Maui Wowi Hawaiian's products, locations or flexible, low-cost franchising opportunities, visit http://www.mauiwowifranchise.com.
About FastCasual.com
FastCasual.com is the world's most-read news and information source to cover fast casual restaurants, which combine the speed of quick-service brands with an atmosphere and food quality typically associated with casual dining establishments.