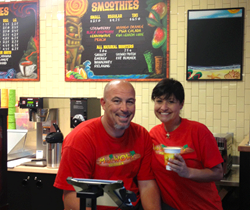 It was my dream to open a business in a community I love for my family and friends.
Greenwood Village, Colo. (PRWEB) June 09, 2014
Maui Wowi Hawaiian continues its expansion on the West Coast and has opened a new store location in Highland, California. Local franchisees Jason Kounas and Jordan Lovato are the proud owners of the Hawaiian coffee and fresh fruit smoothie shop at 28924 Greenspot Rd. This is the first location for Kounas and Lovato who also own two mobile Maui Wowi event carts.
Kounas, who also works as a physical education teacher, as well as coaching baseball for a local community college, was eager to find something he and Lovato could call their own. The flexibility of the Maui Wowi business was perfect; allowing him to continue doing what he loves as a teacher, while beginning the journey of business ownership together as a team.
"There is nothing better than opening a business that offers great coffee from Hawaii, healthy smoothies, and a place with a good vibe that allows you to relax while you enjoy amazing products," said Kounas.
Lovato shares the same sentiment, adding, "It was my dream to open a business in a community I love for my family and friends. I have always loved everything about Hawaii, including the Aloha spirit, and I wanted to give all of those aspects back to the people who have supported me and been a part of my 'ohana."
The new shop offers the community a new island oasis to bring the family, host a business meeting, or grab a drink on the go. It offers fresh, made to order smoothies that are gluten free and made with probiotic yogurt and a fresh banana. Island grown specialty Hawaiian coffees and full espresso bar are also available, in addition to a variety of baked goods and satisfying snack options.
Kounas and Lovato say they are excited to finally have their piece of paradise. To celebrate the opening, they are planning a Grand Opening event later this summer. Details on special promotions and entertainment are to be announced as the event gets closer.
Maui Wowi Hawaiian is open Monday-Thursday from 6 a.m. to 8 p.m., Friday and Saturday from 6 a.m. to 9 p.m., and on Sunday from 7 a.m. to 6 p.m. For more information, please visit http://www.mauiwowifranchise.com.
About Maui Wowi Hawaiian Coffees & Smoothies
Since 1982, Maui Wowi Hawaiian has embraced the Hawaiian culture and has been serving paradise in a cup since the day it began, over 30 years ago. From event carts, mall kiosks and stand-alone retail locations Maui Wowi Hawaiian offers premium, all-natural, gluten-free, fresh fruit smoothies, as well as gourmet Hawaiian coffees and espresso beverages. With over 450 operating units in seven countries, Maui Wowi Hawaiian has truly gone "Global" by adding an online store, shop.mauiwowi.com. Now even more customers can experience the prized gourmet Hawaiian coffees and taste the 'Aloha Spirit' with a 'Click-of-a button!' To learn more information about Maui Wowi Hawaiian's, products, locations, or flexible, low cost franchising opportunities, visit http://www.mauiwowifranchise.com.
# # #