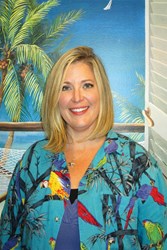 Kerri's expertise will provide essential support to the entire franchise system.
Greenwood Village, CO (PRWEB) November 06, 2013
Maui Wowi Hawaiian, a unique Hawaiian coffee and fresh fruit smoothie franchise, has announced the recent hiring of Kerri DeLaRosa as Director of Franchise Support. In this new role, she will be instrumental in supporting both the brand and its franchisees.
Kerri DeLaRosa has more than 20 years of experience working in consumer driven marketing, advertising, public relations and product innovation. Her experience with restaurant franchises such as McDonalds, Red Robin, Denny's and Little Caesars has also provided her with a strong background in franchisee relations. In this new position at Maui Wowi Hawaiian, Kerri will lead an experienced support team that will oversee training and launch programs for new franchisees, mobile and retail operations as well as marketing for the entire franchise system. She will also be instrumental in developing strategies that increase brand awareness and drive sales.
"Kerri's expertise will provide essential support to the entire franchise system," said Mike Weinberger, CEO of Maui Wowi Hawaiian. "She possesses many unique skills that will broaden our ability to provide unparalleled support to our current and future franchisees. Through the strength and collaboration of our entire team, Maui Wowi will continue to bring benefit to our franchise system and drive the brand forward."
For more information regarding Maui Wowi Hawaiian, please visit http://www.mauiwowi.com. To learn more about franchise opportunities, please visit http://www.mauiwowifranchise.com.
About Maui Wowi Hawaiian Coffees & Smoothies
Since 1982, Maui Wowi Hawaiian has embraced the Hawaiian culture and has been serving paradise in a cup since the day it began, 30 years ago. From event carts, mall kiosks and stand-alone retail locations Maui Wowi Hawaiian offers premium, all-natural, gluten-free, fresh-fruit smoothies, as well as gourmet Hawaiian coffees and espresso beverages. With over 450 operating units in seven countries, Maui Wowi Hawaiian has truly gone "Global" by adding an online store, shop.mauiwowi.com. Now customers from anywhere in the world can experience the prized-gourmet Hawaiian coffees and taste the 'Aloha Spirit' with a 'Click-of-a button!' To learn more information about Maui Wowi Hawaiian's, products, locations, or flexible, low cost franchising opportunities, visit http://www.mauiwowifranchise.com.